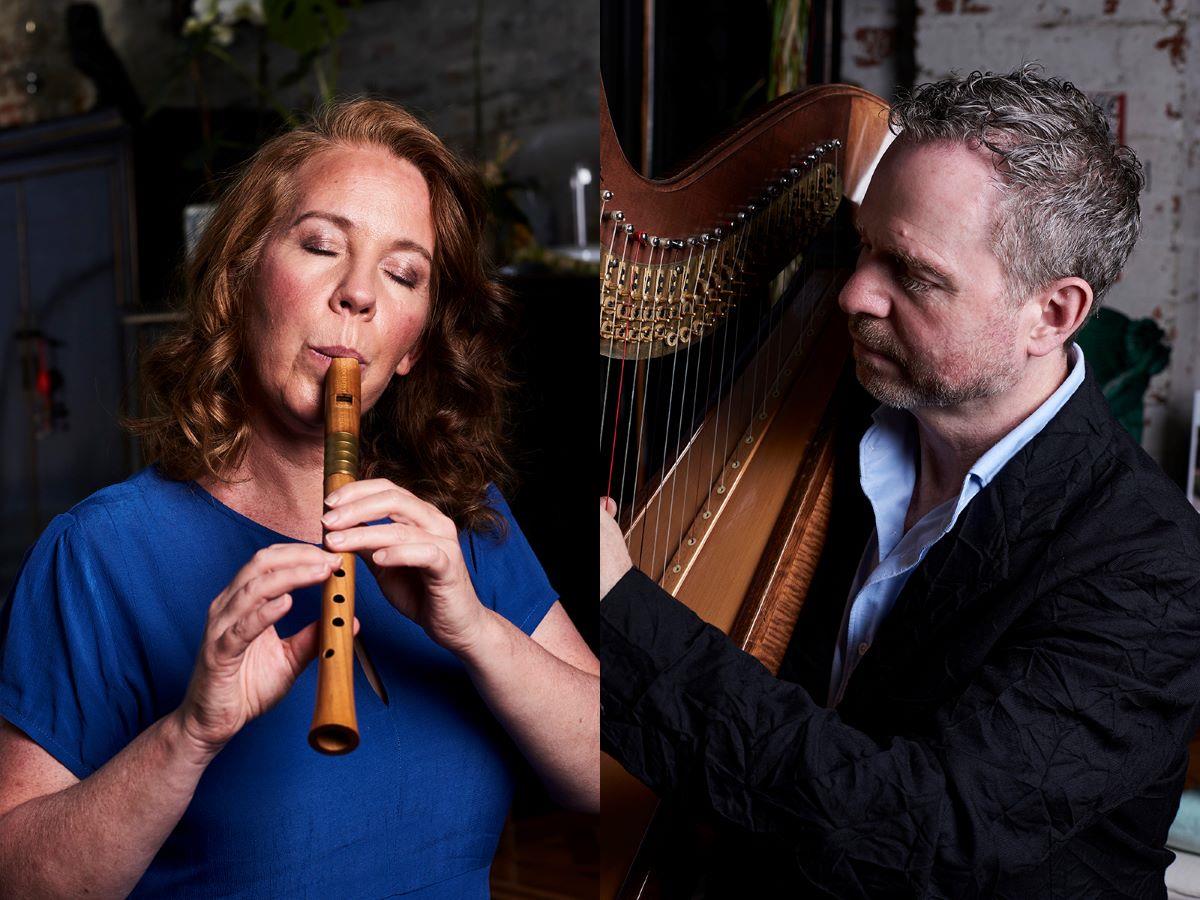 Genevieve Lacey & Marshall McGuire
A concert, or a sanctuary for audiences and performers: Genevieve Lacey and Marshall McGuire, two of Australia's leading musicians, present a unique sonic experience of musical treasures old and new.
Dates:Jul 15
Time(s):7.30pm
Venue:Perth Concert Hall
Details
Hosted By:Musica Viva
Ticket Price:$56 - $106
Venue:Perth Concert Hall
Description
In 2020, when asked whether she thought Musica Viva could put on stage a program she had conceived entirely for the recording studio – a lovely juxtaposition of music old and new, a collaboration with a dear and well-matched friend, renowned harpist Marshall McGuire – the wondrous musician Genevieve Lacey responded:
During this time of isolation, people the world round are yearning for shelter, both physical and spiritual. Bower is an associative, ephemeral nest, woven with memories, heart, hope. Musical treasures found, borrowed and made are lovingly fashioned into a sanctuary.
Accordingly, this program emerges gently onto the concert platform, offering audiences a unique shared experience, enhanced with sound by Jim Atkins and lighting by Niklas Pajanti. Genevieve's 'bower' is the most authentic extension of the ideas at the heart of one of the programmed pieces, Purcell's exquisite Evening Hymn
Now, now that the sun hath veil'd his light
And bid the world goodnight;
To the soft bed my body I dispose,
But where shall my soul repose?
Artists:
GENEVIEVE LACEY RECORDERS
MARSHALL MCGUIRE HARP
PROGRAM –
Music by John Playford, Jacob van Eyck, Cipriano de Rore, Heinrich Ignaz Franz Biber and Henry Purcell (some arranged by Genevieve Lacey and Marshall McGuire), alongside Australian premieres:
SKIPWORTH Cavern
BENNETT Baiyan Woka (arr. Erkki Veltheim)
KELLER I Surrender
VAN REYK threaded in amongst the infinite threading
FLYNN AND HUMPHREY A mutual support for precarious times
VELTHEIM Nocturne over blue ruins
RODGERS Birds for Genevieve
Events
Goldner String Quartet & Piers Lane
Chopin's Piano with Aura Go
Location
Venue:Perth Concert Hall
Address: Perth Concert Hall, 5 St Georges Terrace,Perth,WA,6000
Phone: 1800 688 482
Email: [email protected]