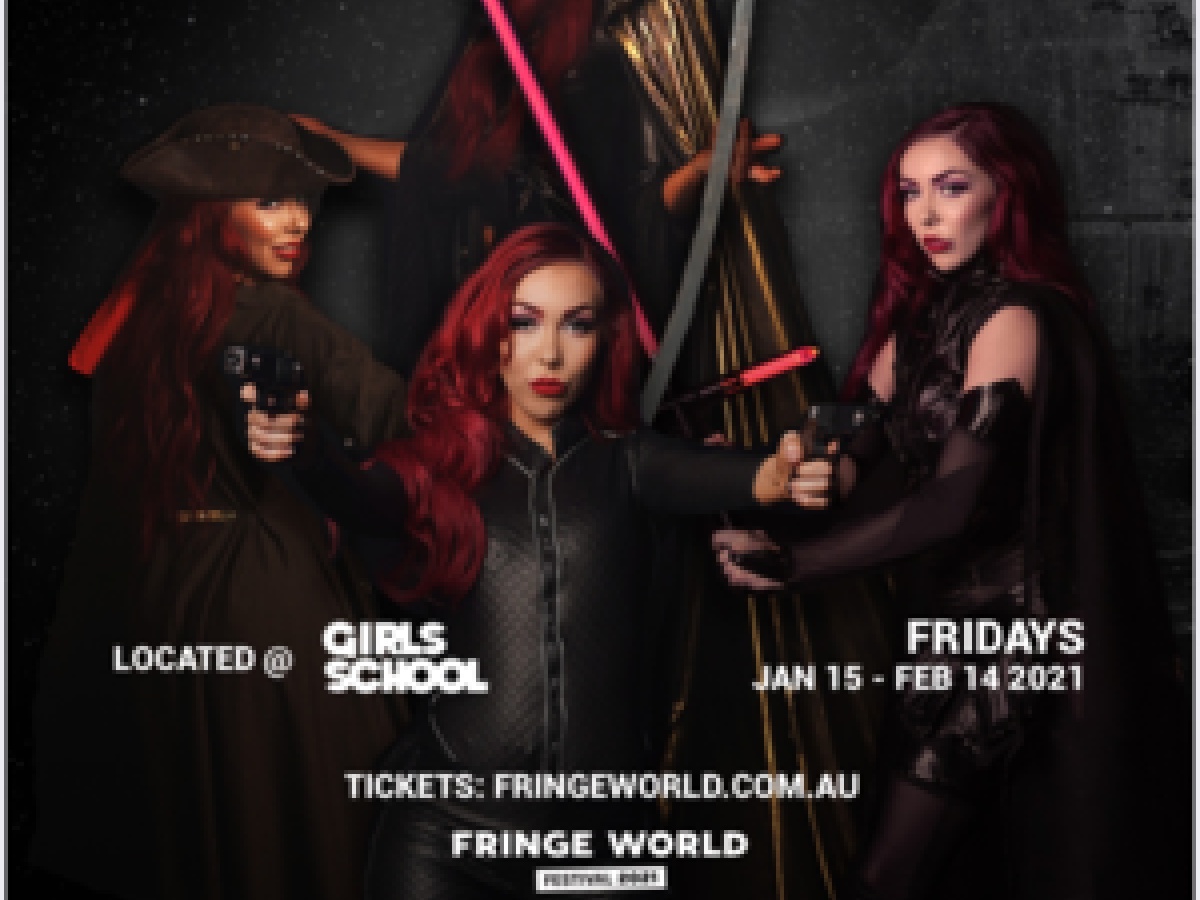 Fatale Attraction: Final Fantasy
Attention geeks, nerds and sci-fi lovers! Experience multiple timelines with High Definition nudity as your favourite heroes and villains are brought to life.
Dates:Feb 19 and 26
Time(s):From 10:40PM
Venue:The Gold Digger at Girls School
Details
Hosted By:Frankie Fatale
Venue:The Gold Digger at Girls School
Festivals:Fringe Festival
Description
Geeks, nerds and sci-fi lovers rejoice: Frankie Fatale is bringing sexy back and this time it was made for you. Whether you're team Marvel or team Star Wars, sit back and experience multiple timelines with high definition nudity as your favourite heroes and villains are brought to life by Australia's Queen of Striptease. With dazzling light shows that make the Kessel Run seem dim, aerial acts you'd be mad to try, and more nudity than Game of Thrones, you'll want to snap your fingers and experience this show on repeat. Just make sure you hide the rum.....because the best pirate you've ever seen is about to become the sexiest. Presented by: Frankie Fatale Frankie Fatale is Australia's "Number 1 Stripper" (X AWARDS) and "Most Sensuous and Erotic Woman" (Miss Nude Australia), as well as the reigning Miss Exotic World and perhaps one of the best-known adult entertainers in the country. Branching out from her usual work in the Strip Club and on the competition circuit, in 2021 she premieres her first-ever FRINGE WORLD Festival shows as well as a world-first theatrical strip show, "FATALE ATTRACTION: FANTASY". All of which combine her talents as an award-winning showgirl with Pole Dance, Circus, Contortion, Dance, stunts, and of course, an envelope-pushing dose of raw sexuality. Very Hot: From the sexy, the controversial, to the shocking or unique - not for the faint-hearted.
Events
Whose Rhyme Is It Anyway?
Uncorked Comedy | Wine tasting with a comedian
Triple Cream Comedy Showcase
The Variety Talent Competition
The Incorrect Stand-Up Comedy Show 2021
The Great Debate: Girlz rule, boys drool - a 90s musical comedy!
Swipe Right! The Musical II
Spectacles Present: Stargazed
She'll Be right: A Tradie Cabaret
Perth's Big Gay Games Night: Live Edition
Nadia Collins: Chrysalis (a work in progress)
Melon the Human attempts to top his last show which got him into the largest circus in the world.
Life Drawing with a Comedian
Learn Magic: Celebrity Magician Jon Fox Reveals His Secrets!
Harry Potter vs Lord of the Rings: Stand up comedy showdown
Down the Rabbit Hole by Shana James
Defiant Women - Voices of Protest and Change
Crap Music Rave Party: The High School Ball
CERAH Exchange Showcase: Thinking through Cross-Disciplinary Methodology
Captain Spaceship: Renegades
Cameron the Magician Presents: Abra Da-Cameron!
Brewed Laughter | Beer tasting with a comedian
Bogan Shakespeare Presents: Macbeth
Best of the Fringe: Comedy Superstars
ANTIGONE Sophocles Adaptation by Jane Hille
An Aussie, African & Englishman walk into a bar...
Alissia Marsh: King Of The Lesbians
Location