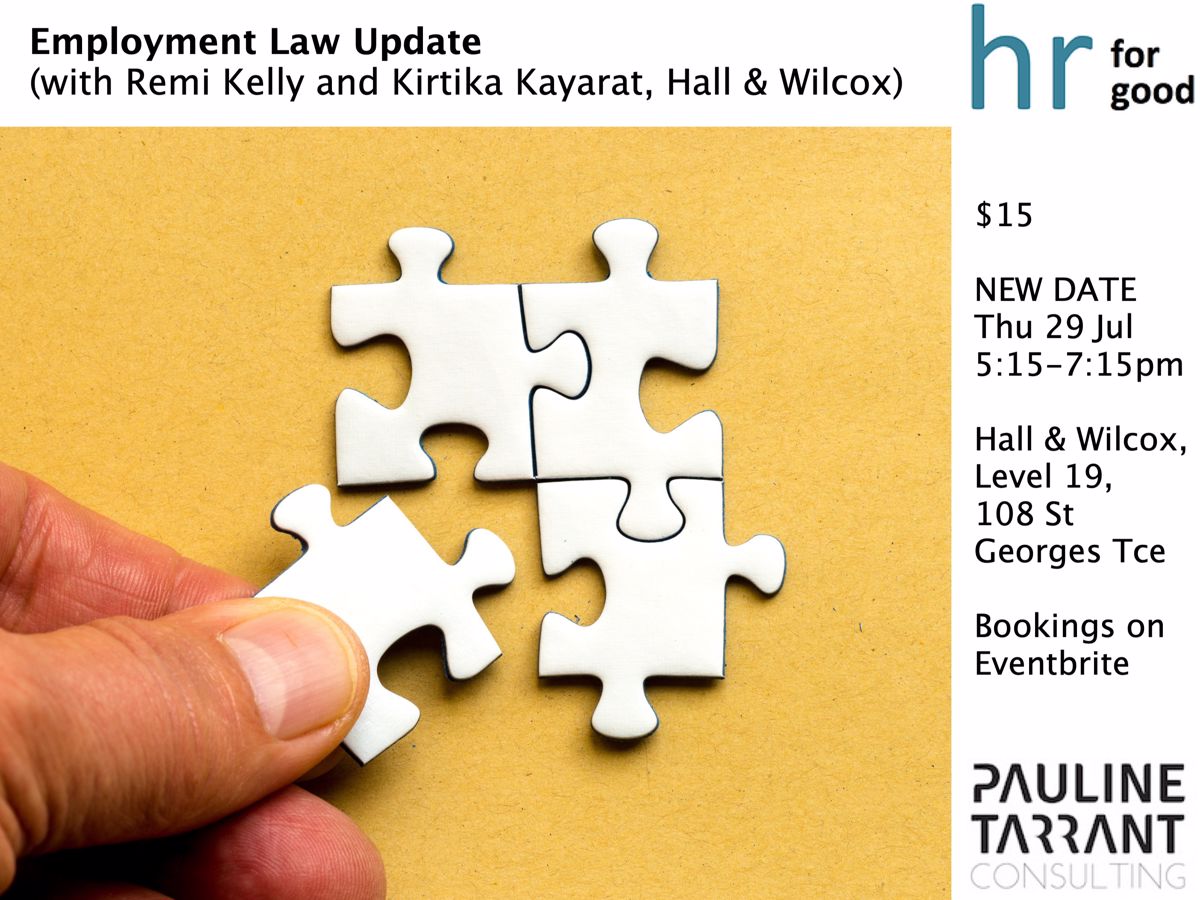 Employment Law Update
RESCHEDULED DATE THU 29 JULY Join business leaders and HR professionals from the not-for-profit sector for an engaging interactive learning and networking session.
Dates:Jul 29
Time(s):5.15pm -7.15pm
Venue:Hall & Wilcox, Level 19, 108 St Georges Terrace, Perth WA 6000
Details
Hosted By:Hall & Wilcox
Ticket Price:$15
Venue:Hall & Wilcox, Level 19, 108 St Georges Terrace, Perth WA 6000
Description
Remi Kelly and Kirtika Kayarat of Hall & Wilcox will present a stimulating session, `The times, they are a-changin`: casual employment and workplace sexual harassment get a shake-up`. 2021 is shaping up to be a big year of reform for employment and industrial relations. Allow Remi and Kirtika to guide you through the Government`s recent changes to casual employment laws and its proposed response to the Australian Human Rights Commission`s
[email protected]
: Sexual Harassment National Inquiry Report 2020. This HR for Good event will enable you to navigate the complexities of emerging employment law and systemic reform, enabling you to lead positive, informed change in your organisation. REGISTER now. Refreshments will be served and there will be the opportunity to network with others. This event is hosted by Hall & Wilcox. Remi Kelly Remi has more than five years` experience in employment and industrial relations, including stints as a union official and a public servant. Remi`s practice focuses on employment, industrial relations, discrimination and health and safety. Kirtika Kayarat Kirtika was recently admitted to legal practise and works across the Employment and Commercial Dispute Resolution groups. Kirtika previously worked in professional services for an accounting firm.
Location