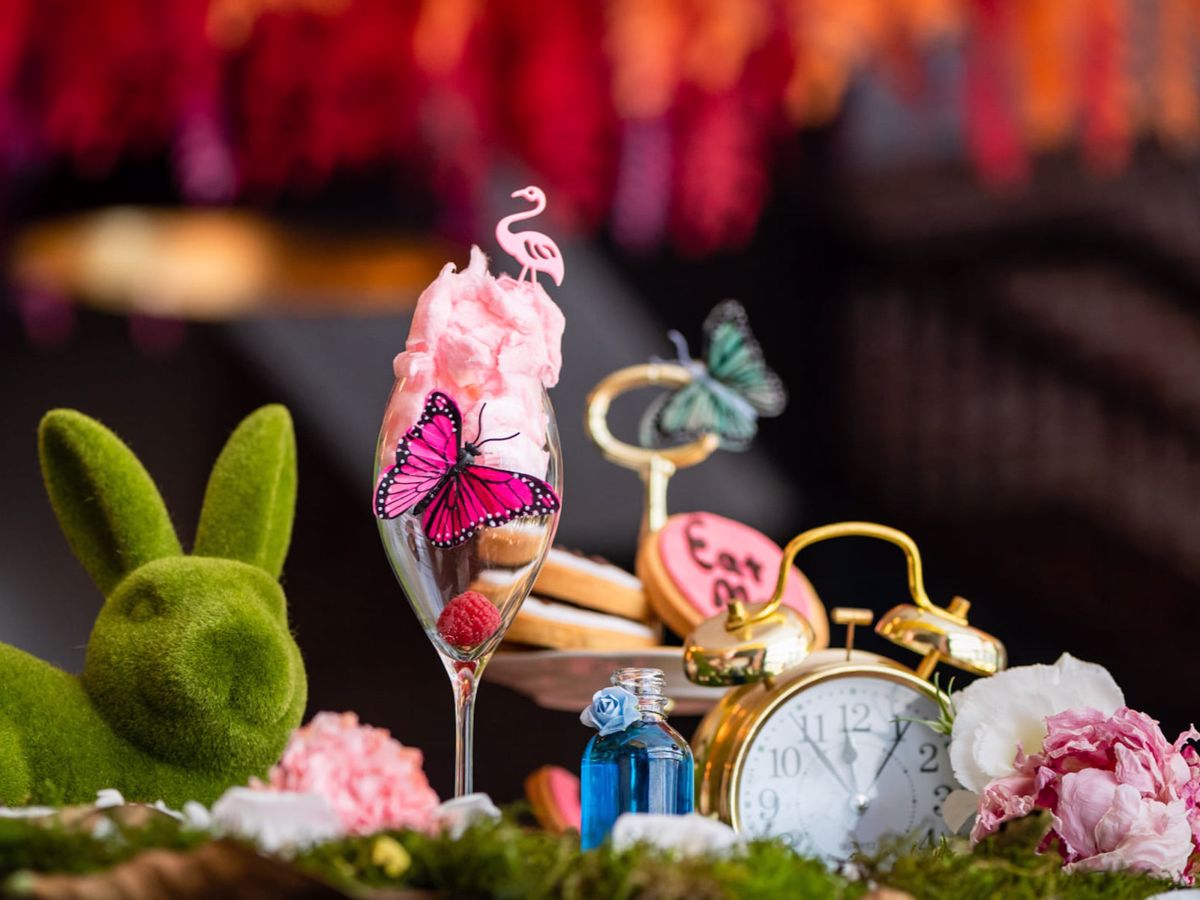 Alice Gin Wonderland at the Flour Factory
Take a trip down the rabbit hole as everyone's favourite CBD Gin destination, The Flour Factory is transformed into an epic Wonderland, launching this New Year's Eve.
Dates:Dec 31 - Feb 13
Time(s):Various
Venue:The Flour Factory
Details
Hosted By:The Flour Factory
Venue:The Flour Factory
Description
Officially opening on New Year's Eve and running until Valentine's Day,
Alice Gin Wonderland will showcase an array of fanciful events and
experiences, including – Mad Hatter Masterclasses; an eccentric take on
our iconic Gin Masterclasses, Alice Yin Wonderland; a Yin Yoga fusion
with Bodhi J followed with gin and treats, Off with their Petal Heads!; a
whimsical floral workshop accompanied with gin and treats – and an
imaGINative take on The Flour Factory's iconic Gin
Trees with High G&Tea Tree Parties!
Immerse yourself in our whimsical wonderland underneath a large-scale
overhead floral garland venue art installation. In a Perth hospitality first,
the wonderland installation runs throughout the length of the bar area
featuring 3,000 custom created garlands, over 600 magnets – measuring
approx. 250 lineal meters!

The adventure will begin on the most magical night of the year, NYE, with
our New Year's Eve Opening Party! Immerse yourself in the theatrics of
Wonderland, with delicious drinks, a Mad Hatter's Dinner Party and rooftop
garden games galore as we say "off with your head!" to 2020 – with THREE
charming experiences to choose from:

Alice GIN Wonderland NYE Opening Party | from 4pm | FREE ENTRY
Experience wonderful Wonderland with drink specials, rooftop garden
games, magical surprises and a live DJ from 7pm to keep you entertained
before the clocks strike midnight!
Alice Gin Wonderland NYE Bar Party | 7-9pm | $70pp +b/f
Experience all of the above in wonderful Wonderland, with Villa Sandi Rosé
Prosecco on arrival, two hour drinks package with canapés and a palate
cleansing dessert canapé too!
BUY TICKETS
Mad Hatter's NYE Dinner Party | Sittings from 5pm | $120pp +b/f
Live a true NYE fairy-tale when you join us for an exclusive Mad Hatter's
dinner party! Enjoy all of the above entertainment, plus a GINspiring three
course share-style menu, complete with a two hour drinks package and
Villa Sandi Rosé Prosecco on arrival!
BUY TICKETS
ALICE GIN WONDERLAND EVENTS
Alice GIN Wonderland NYE Opening Party
31 Dec, from 4pm
Alice Gin Wonderland NYE Bar Party | 7-9pm | Tickets $70pp +b/f
Mad Hatter's NYE Dinner Party | Sittings from 5pm | Tickets $120pp +b/f
High G&Tea Tree Parties
6 January – 13 February 2021 (Weds-Sat), 4-6pm
$160 – minimum of four, bookings essential via [email protected]
Mad Hatter Masterclasses
13 January 2021 | 10 February 2021 | 20 February 2021
5.30pm arrival for a 6pm start
An eccentric take on our iconic Gin Masterclasses… explore the history,
production & style of four gins from our GINventory wonderland, paired with
various 'Drink Me' tonics & 'Eat Me' treats from the kitchen.
Tickets $45pp +b/f
Mad Hatter Hendrick's Masterclass
3 February 2021
5.30pm arrival for a 6pm start
An eccentric take on our iconic Gin Masterclasses… with a Hendrick's twist!
This limited edition Wonderland masterclass will see Hendrick's' Australian
Brand Ambassador explore the most curious of gin brands – Hendrick's,
Hendrick's Orbium and Hendrick's Midsummer Solstice; paired with various
'Drink Me' tonics & 'Eat Me' treats from the kitchen. You'll also create your
own gin using Hendrick's' individual distillates to enjoy on the day.
Tickets $75pp +b/f
Off with their Petal Heads!
A whimsical floral workshop. Use your wildest imaGINation to craft your
own arrangement as you sip on a juicy 'Drink Me' G&T and GINdulge in some
'Eat Me' treats from the kitchen.
Date TBC, tickets on sale in the coming weeks
Alice Yin Wonderland w/ Bodhi J
21 January 2021
5.30pm arrival for a 6pm start
Ground yourself in Wonderland with an hour of tranquil Yin Yoga flow hosted
by the GINcredible Bodhi J, followed by a juicy 'Drink Me' G&T and GINdulge
in some 'Eat Me' treats from the kitchen.
Tickets $50pp +b/f
Queen of Hearts Valentine Ginner
Friday 12 February 2021, sittings from 5pm
Saturday 13 February 2021, sittings from 5pm
Enjoy a flute of Villa Sandi Rosé Prosecco on arrival, a three-course romantic
'Eat Me' share-style dinner, paired with three delightful 'Drink Me' G&Ts and
take home red roses.
Bookings open January 2021
Location