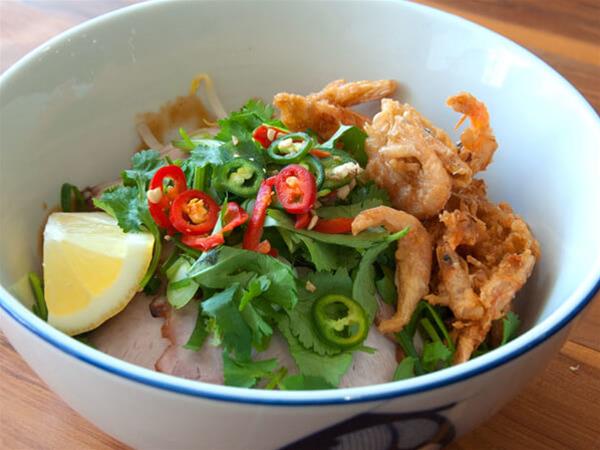 Mama Tran feeds you fresh Vietnamese eats – healthy food that puts you in a good mood and doesn't break the budget. It's like coming home to Mama's table and filling up on love, joy and yummy food.
Open Days/times:Monday to Friday 7:30am to 2:30pm
Facilities:Catering,Family Friendly,Takeaway
Details
Facilities:Catering,Family Friendly,Takeaway
Open Days:Monday,Tuesday,Wednesday,Thursday,Friday
Breakfast:Monday,Wednesday,Thursday,Friday
Lunch:Monday,Tuesday,Wednesday,Thursday,Friday
Description
Khuu Thi Gioi is also affectionately known as Mama Tran by her many customers who frequent the Tran family's corner shop on Palmerston Street in Northbridge. Born in the 1930s in the Mekong Delta region of Vietnam, Mama Tran and her husband, Tan Tran, fled the Vietnam war as refugees and upon arriving in Perth opened a little grocery store to support their ten children.
Mrs Tran used to toil away in the kitchen making Banh Mi (Vietnamese baguettes) to support her family. That was almost 30 years ago. Today, Mama Tran is still the proud matriarch of the Tran family.
Three generations, 28 grandchildren and 15 great grandchildren later, the Tran family and family business have thrived. The whole family still comes together to enjoy family meals in the makeshift kitchen at the back of the original Palmerston Street store – and those same family recipes are now the dishes shared with diners at Mama Tran – treated as guests of the family who have gathered round our kitchen table to enjoy Mama's delicious food, and we hope, also a little of our family joy.
Location