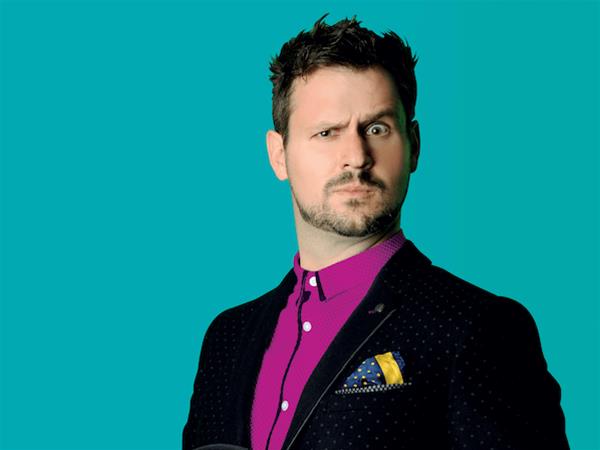 Trick Trick Boom!
'Best Magic' winner at Adelaide Fringe 2018. Kevin Quantum reactivates his silly side; returning with more magic, re-imagined favourites, new illusions and big laughs
Dates:17 - 26 JAN
Time(s):8:20PM · 60 MINS
Venue:The Woodside Pleasure Garden, Teatro
Festivals:Fringe Festival
Details
Venue:The Woodside Pleasure Garden, Teatro
Audience:Adults,For teens 13-17
Festivals:Fringe Festival
Description
A show that will rock your socks off - and you won't even have to take off your shoes! "Part magic, part science, part comedy and all genius." ½ Cream Magazine, 2018.
Events
Yianni Agisilaou: The Simpsons Taught Me Everything I Know
Writing With An Enlarged Heart
Worship - The Gilded Edition
With Grace By Bronte Kellam-Pearson
Uncorked Comedy | Wine Tasting With A Comedian At The Rooftop
Umit Bali: Aussie At Last!
The Hilary Duff Film Re-Enactment Festival
The Flaming Galahs: Great Australian Songbook
The Alchemist's Guide To The Undercity
Sonny Yang's Incredibly Stupid Adventure Game
Sirqus Alfon – I Am Somebody
Shahnameh: Songs Of The Persian Book Of Kings
Shades Of Buble: A Three-Man Tribute To Michael Buble
Sessions At Fremantle Church
Sense & Spontaneity The Musical
Selfless Orchestra: Great Barrier
Scarlet Affaire: Late Night Lust
Sassafras: An Evening Of Gypsy Swing
Purple People Comedy & Circus
Playtime 3: More Than Twice Is A Habit
Peter Combe In Brush Your Hair With A Toothbrush!!
Once Upon A Fractured Fairytale
No Hero With Stuart Lightbody
Nina, Love Simone - Simone Craddock & Adrian Galante
Nick O'Connell - Those Who Can, Those Who Can't
Mr Snot bottom's Horrible Terrible Really Really Bad Bad Show
Michael Shafar - Getting Better
Michael Griffiths: By Request
Maisie's Massive Mistakes
Kiara With A K: That Jazz
Josh Glanc: Work In Progress
Jordan Anthony - This Is Me!
Jon Pinder: Tattoo Boy At The Balmoral Hotel
Jeff Green: Wombat Combat And Other Mistakes
Halal?.. Is It Meat You're Looking For?? | Umar Azad
Gender Blender Burlesque 2
Gavin Nicklette: Lounge Room Confessions
Funky Town - Hits Of The 70'S, 80'S & 90'S At The Corner Bar
Facundo Herrera: Thalidomide
Eurydice - Pleasure Garden
Elliot Bibby: Magic In A Jiffy
Drag Diva Spectacular Cabaret
Drag & Drag: Good Art, Bad Men
Dolly Diamond's Bl*Nkety Bl*Nks
Dirty Tattooed Circus Bastards: The Prison Years
Death In The Golden Triangle
Days Of Our Hives By Alanta Colley
Claire Sullivan: Toast Rat
Captain Spaceship: The Return Of Captain Spaceship
Bubble Show For Adults Only
Boys Taste Better With Nutella
Billy D'arcy - Anxiously Arrogant At The Comedy Hub
At Least There'll Be Food...
Abracadabra And Other Useless Magic Words
A Boy Named Cash: Volume II
2 Comedians Are Better Than 1
'Lucid Dreams' By Pierre Ulric
(Not) The Bachelor Live On Valentine's Day Hosted By Luke Bolland
Location
Venue:The Woodside Pleasure Garden, Teatro
Address: The Woodside Pleasure Garden, Teatro, Russel Square, James St &, Shenton St,Northbridge,WA,6003
Phone: 9227 6288
Email: [email protected]
Website:https://fringeworld.com.au/