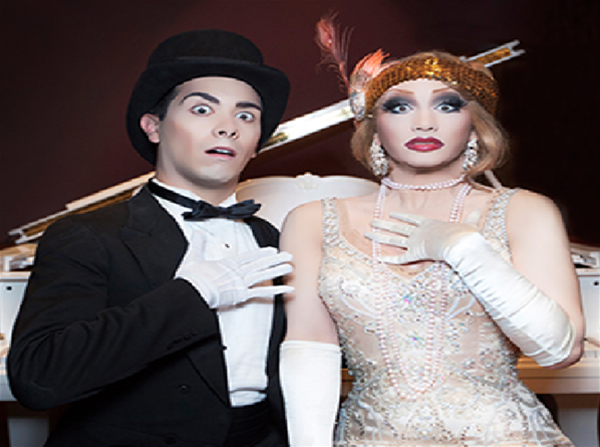 The Vaudevillians Starring Jinkx Monsoon
Drag-comedy sensation, Jinkx Monsoon, returns to Perth Fringe World in The Vaudevillians for her only Australian appearance!
Details
Hosted By:Strut & Fret Production House
Description
Always up for an encore The Vaudevillians starring queen of 'RuPaul's Drag Race' and Helpmann Award nominated Jinkx Monsoon, alongside her co-star Major Scales, is back by popular demand for an exclusive Perth Fringe World season from 29 January. The drag-comedy sensation and alter ego of Jerick Hoffer, Jinx Monsoon will reprise her role as Kitty Witless, with co-star and co-writer Richard Andriessen, better known as Dr. Dan von Dandy.
Frozen alive in the 1920's, the husband and wife duo have recently thawed out due to global warming only to discover that pop artists of various decades have stolen their music and passed it off as their own. Now, Witless and the good doctor are on a quest to reclaim their music and perform it in its original integrity, with renditions of songs like 'Piece of my Heart', 'Bad Romance', 'Harder Better Faster Stronger' and more!
Don't miss last year's five-star festival favorites – and the hottest act ever frozen alive!
The New York Times writes, "Straight or gay, everyone leaves this show with sides aching from laughter." Called "a pure delight" (The New York Times), "comedic genius" (Show Business Weekly), "hilarious" (Broadway World), as well as "intelligent and entertaining" (Theater Mania), "The Vaudevillians" has amazed audiences since its inception. Even RuPaul proclaimed the performance "a triumph!"
'A fun, naughty and cleverly crafted piece of cabaret theatre' Perth Now
'A force to be reckoned with' Theatre People
'A delight to behold' ArtsHub
'I've not seen anything quite like it. Smart, silly, sexy, fiendish and impeccably dressed'. Australian Stage
'...a vocal range as wide as her splits and comic timing you can set your watch to. This is drag that's as smart as it is hilarious'. Aussie Theatre
Winner Cabaret Award - Adelaide Fringe Weekly Awards 2014
Nominated Best Cabaret Performance - Helpmann Awards 2014
Nominated Vinaceous Cabaret Award - Perth Fringe World 2014
The Vaudevillians are presented by award winning Strut & Fret Production House, the Melbourne based company behind international touring artists and productions, Le Gateau Chocolat, LIMBO, Cantina, Tom Thum, The Tom Tom Crew and Strange Fruit.
Location