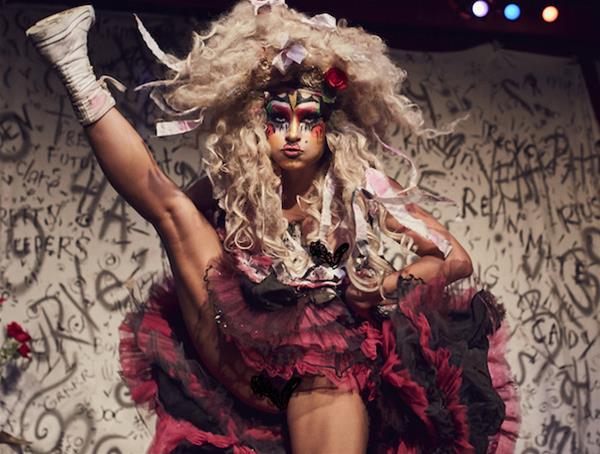 Love & Anger
Witness Betty Grumble's ritual of dancing dissent and disco in this cabaret performance!
Dates:Feb 2, 3, 8 & 9
Venue:Shambles at The Pleasure Garden
Details
Hosted By:Fringe World
Venue Address:Russell Square, James St, Northbridge, WA, 6003
Ticket Price:$30
Venue:Shambles at The Pleasure Garden
Audience:LGBTI,Adults,Wheelchair Access
Description
Betty Grumble whirls back to the west after sell out seasons around the world. Come dive in again to her ongoing womanifesto, protest party and long hard kiss. Witness her ecosexually charged flesh riot ritual of dancing dissent, disco and deep push back-ery. Where pleasure is a radical act and the body a bloody love letter.
'A Revelation.' - The Age
"Love and Anger isn't merely funny, it really is hilarious. And genius." AUSTRALIAN STAGE, 2017
"Sensuous, Joyous, Obscene, Absurd." THE SCOTSMAN, 2017
"Betty Grumble's Love and Anger is a reclamation of the feminine body in all its juice, jiggles and joy. Read the vibe." EDFEST MAG, 2017
Transformative and Wild. See Grumble! - Peaches, 2018
Best Cabaret FRINGE WORLD 2017 2018
Presented by:
Emma Maye Gibson
Totem Critter. Surreal Showgurl. Obscene Beauty Queen. Wild Womanhood. Sex Clown. With ceremonial precision and deranged wit, BETTY GRUMBLE enslaves her audience with a powerful call to arms as she raptures in the complexity of the woman body as a political and playful site. A maniacal Feminist contagion and ecosexual, her award winning work has been critically lauded across the board. From the polished stages of Belvoir St Theatre and Sydney Opera House, to the swampy dens of Sydney's Queer Underground and International Fringes. Grumble is a founding member of performance gaggle Gang of She and has her MFA in Fine Arts/Arse, her practice bounces from stage to street, screen to shawomanic ceremony. A mantric wish towards Love Energy. Are you Betty to Grumble?
Events
Zoë Coombs Marr – Agony! Misery!
YUCK Circus | Fringe World 2020
Warning: Everyone Must Have Fun!
The Second Body - Work In Progress
The Paul Simon Experience
Strange For Hire Sideshow
Stick 'Em Up: Back In The Saddle
Prehysterical At Woodside Pleasure Garden
Pirates!! | Woodside Pleasure Garden
Nikki Britton - One Small Step
Mr Snot bottom's Horrible Terrible Really Really Bad Bad Show
Magnus' Explosion Laboratory 2: Electric Boogaloo
L.I.A.R. (Life Is A Rehearsal)
Karen From Finance Is Out Of The Office
Jordan Anthony - This Is Me!
Jester Hawk International Sensation
Fringe World Mermaids Splash Zone
Drumming In The Park: Family Fun For All Ages Hosted By Wcms
Dr Sketchy's Anti Art School
Dirty Tattooed Circus Bastards - The Prison Years
Bernie Dieter's Little Death Club
Absurdly Yours: Doorway Cabaret
Absurdly Kids: Doorway Cabaret
1-On-1 Snakes In The Garden
Location
Venue:Shambles at The Pleasure Garden
Address: Russell Square, James St,Northbridge,WA,
Phone: 9227 6288
Email: