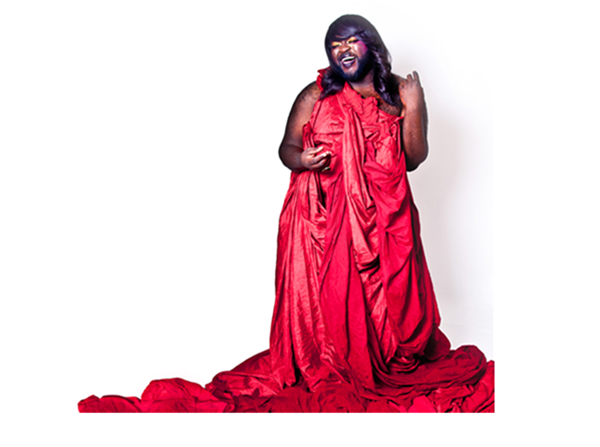 Le Gateau Chocolat - I Heart Chocolat
Le Gateau Chocolat returns to the 2015 Fringe Festival for six shows only with I Heart Chocolat, a brand new glittery, lycra-clad masterpiece!
Details
Description
Le Gateau Chocolat returns direct from the UK to the 2015 Fringe Festival with I ♥ Chocolat, a new glittery lycra-clad masterpiece that is an up close and personal evening of decadent indulgence of opera, musical theatre, jazz and maybe even some rap. The theatre becomes a living jukebox and it's up to the audience to decide how the delicious musical playlist will unfold.
With a whirlwind of endless costume changes, a healthy dose of honesty, and a collective show-stopping climax like no other Le Gateau and his live band delivers everything from Bassey to Radiohead, infusing the stories of these songs with his own incredible tales.
Le Gateau Chocolat was last in WA in 2013 and was nominated for Fringe World Best Cabaret Award.
Voted by Time Out London as one of its Top 10 Cabaret Stars, Le Gateau Chocolat is a one-man musical phenomenon, complete with larger-than-life vocal talent who becomes a festival darling where ever he performs.
Nigerian-born London-Boy, Le Gateau Chocolat was the face and voice of the T-Mobile flash mob advert four years ago and since then his immense vocal stylings have taken him from the Tate Britain to Miss Ireland competitions. From performing with Glyndebourne Opera to The Paul O'Grady Show. From singing for the Queen as part of the Jubilee Flotilla to touring the globe with La Soirée and La Clique, solo shows at the Sydney Opera House, Menier Chocolate Factory and in Melbourne, Adelaide, Perth, Poland, and New Zealand.
Presented by Strut & Fret Production House, Le Gateau Chocolat has been described by THE WEST AUSTRALIAN , "The contradictions were endless - at once serious and funny, sad and uplifting, Le Gateau Chocolat took the audience on an emotional kaleidoscope of a journey...few performers can make you forget where you are. Le Gateau Chocolat has that rare gift."
"A cabaret masterpiece… a fabulously crude, sequin embellished evening of indulgence." THREE WEEKS (UK)
"The biggest voice in town. Global domination awaits!" TIME OUT (UK)
"Belting it out with relish…leaving everyone wanting more" THE SCOTSMAN (UK)
"dirty ditties and pop classics…He tantalises with some wicked and funny songs… then takes you into the mesmerising world of opera" IN DAILY
"Where some cabaret fails to emote, Gateau excels… In turns, sweet, (ful)filling and carefully baked" THE LIST (UK)
"If you thought you'd seen it all before, think again: Le Gateau Chocolat is here to shake up your festival." BROADWAY BABY (UK)
Le Gateau Chocolat is presented by award winning Strut & Fret Production House, the Melbourne based company behind international touring artists and productions, The Vaudevillans, LIMBO, Cantina, Tom Thum, The Tom Tom Crew and Strange Fruit.
Location