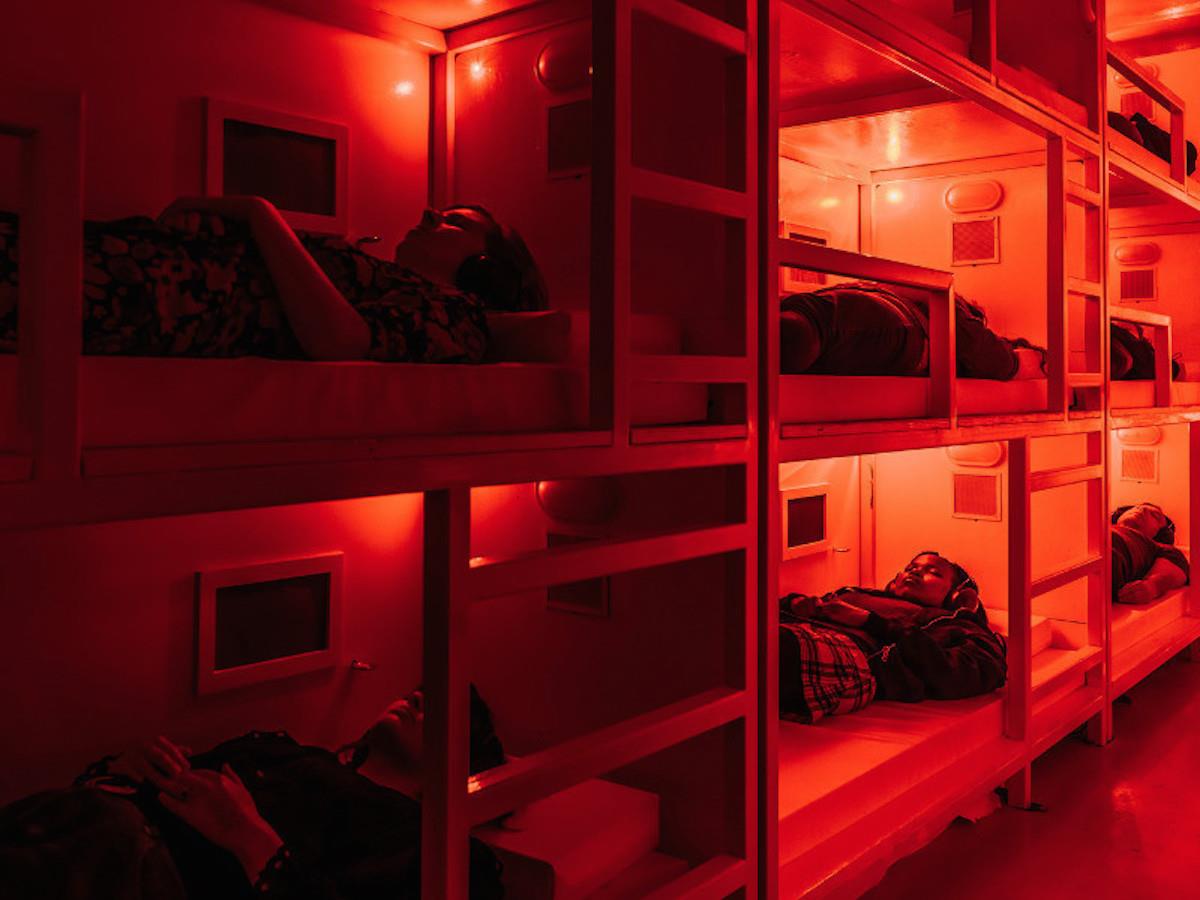 Darkfield's COMA
COMA, the third installation of the highly acclaimed multi-sensory series, DARKFIELD, invites participants to slip into a collective dream state in its FRINGE WORLD premiere.
Dates:Jan 15 - Feb 14
Venue:Woodside Pleasure Garden
Details
Hosted By:Realscape Productions
Venue:Woodside Pleasure Garden
Festivals:Fringe Festival
Description
Presented by Realscape Productions (AU) in association with Darkfield (UK), COMA will join its predecessors, SÉANCE and FLIGHT, three ubiquitous white sea-containers that each explore a theme of fear and anxiety, in complete and utter darkness.
Where SÉANCE tested the audiences' susceptibility to suggestible material, and FLIGHT jolted its passengers between this world and alternates, COMA invites audiences to take part in a strange mass experiment, to explore the dark recesses of their own mind, over 30 minutes.
COMA is set in a 40ft sea-container, each wall lined with bunk beds. Audiences members lie down in a bed, each becoming separated from their counterparts. Alone in the darkness, the multi-sensory elements engulf each participant, suggestive of the show's own namesake.
Please remember when you leave, to take your body with you.
As with all DARKFIELD experiences, a strange world is built from 360 degree binaural sound that perplexes the senses, deepening the immersion by casting doubt on what is real and what is imagined. Loss of vision heightens the remaining senses, making them vulnerable to manipulation.
For the team at Realscape Productions, the WA season marks the return of the Darkfield sea-containers to their Australian tour, having been stored in a paddock since COVID closed the doors on much of the theatre industry in March.
"We're grateful for the opportunity to be able to present in WA, as the city comes alive with the Fringe, the audiences in Perth are always exceptional. We're in a very different situation to our UK counterparts," commented Amy Johnson, producer at Realscape Productions.
Those looking for a taste of what to expect before FRINGE WORLD, can tune in to Darkfield Radio, a series of audio encounters designed to be experienced at home. Darkfield's creators David Rosenberg and Glen Neath are the masterminds behind the immersive experiences, and have recently sparked global attention of XR and VR communities with their ability to create worlds for the audience using only audio.
COMA, FLIGHT and SÉANCE will run frequently at various times from Tuesday - Sunday in the Woodside Pleasure Garden from 15 January - 14 February, 2021.
COMA and FLIGHT run for 30 minutes and cost $25 and SÉANCE runs for 20 minutes and costs $20. Tickets are available at www.fringeworld.com.au
Prior to FRINGE WORLD, FLIGHT will embark on its first ever regional Australian season in Mandurah WA from December 4 - 20, 2020
Events
Possession: Fear Never Sleeps
Confession: An Immersive Experience
Location