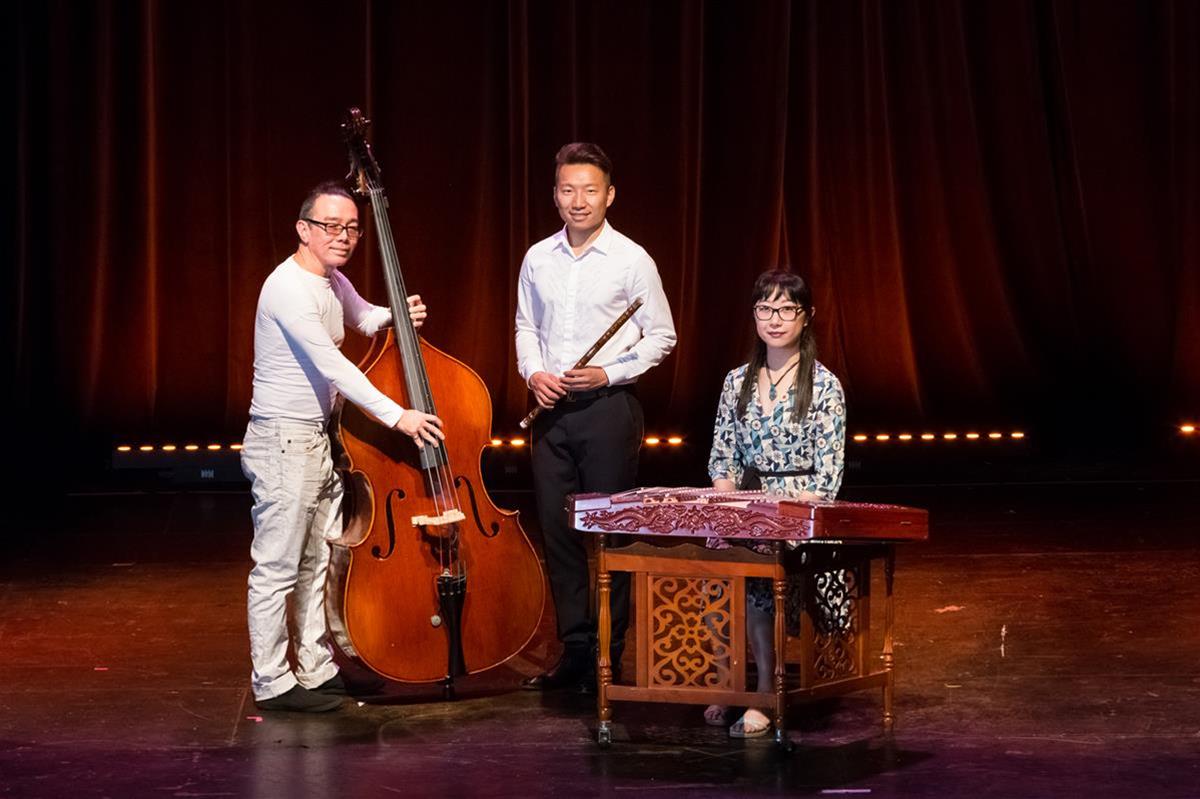 Crystal Jade / Martin & Coole
Lose yourself in a funky fusion of traditional and contemporary sounds live at the Northbridge Piazza over four special Sundays in March 2019
Dates:Mar 24
Time(s):5pm - 7pm
Venue:Northbridge Piazza
Details
Hosted By:City of Perth & Kaleidoscope Multicultural Arts Management
Venue Address:Lake St, Northbridge WA 6003
Venue:Northbridge Piazza
Audience:Family-Friendly
Description
Horizons Sunday Concert Series is a collection of free, twilight family friendly world music concerts held in Northbridge Piazza. Featuring a diversity of global cultures, including Cuban, Indian, Chinese and Congolese, Horizons will wow you with the extraordinary musicality of some of Perth's best musicians and have you dancing to the beat of dynamic cultural collaborations emerging in our community.
East meets West with the beautiful Cryastal Jade featuring Stella Huang on yangqin (Chinese hammer dulcimer), Merlin Ma on bamboo flute and Malcolm Mah on double bass. Together they perform an enchanting instrumental blend of traditional oriental music and contemporary Chinese pop tunes.
Martin & Coole are a contemporary folk swing blues duo from Beaconsfield in Western Australia. The duo use close vocal harmonies, guitar, ukulele and mandolin embellished with diverse acoustic instrumentation including dobro, banjo, violin, harmonica, double bass, plus the yangqin, the traditional Chinese hammer dulcimer. The songs are generally set in a local West Australian context sharing modern and old stories; like the true tale about a friend that spent a night in a maximum-security prison for not wearing his bicycle helmet; a FIFO (Fly-in Fly-out) widow's lament; or the trad style folk ballad about Goongarrie, a Goldfields ghost town out near Lake Ballard in central Western Australia.
Crystal Jade / Martin & Coole is the third concert in the City of Perth's four part Horizons Sunday Concert Series, held on the 10th, 17th, 24th and 31st March 2019 in Northbridge Piazza, celebrating the cultural diversity of Northbridge.
Location
Venue:Northbridge Piazza
Address: Northbridge Piazza, Lake St,Northbridge,WA,6003
Phone: 08 9461 3333
Email: [email protected]