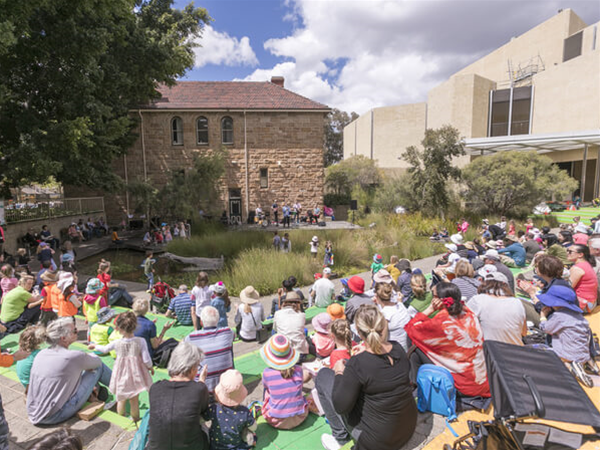 AWESOME International Art Festival
The AWESOME International Arts Festival for Bright Young Things presents a multi-artform program including theatre, dance, visual arts, literature and creative workshops.
Dates:Oct 5 - 18
Venue:Perth Cultural Centre
Details
Hosted By:AWESOME
Venue Address:Francis Street and, William St, Northbridge WA 6003
Venue:Perth Cultural Centre
Audience:Family-Friendly,For toddlers 0-3,For kids 4-12
Description
About the Company:
AWESOME Arts is a not-for-profit contemporary arts company for young people. AWESOME aims to engage with young people under 12 through exciting, inspiring, accessible and challenging arts activities and programs. Based in the Perth Cultural Centre, AWESOME presents the annual AWESOME Festival, the Creative Challenge and other Special Programs.
About the AWESOME Festival:
AWESOME Arts Australia presents the annual: AWESOME International Arts Festival for Bright Young Things. The Festival includes a spectacular array of events from theatre to dance, early childhood activities, music, film and hands-on crafts. We offer fun, layered programming for children aged 0-12 and their families.
The 2019 AWESOME Festival will take place on the following dates:
General Public:
5 – 11 October – Perth Cultural Centre
12 & 13 October – UWA
School Excursions:
15 – 18 October – Perth Cultural Centre
Education:
AWESOME Arts offer a fantastic tour and excursion program exclusively for schools every year during the first week of Term 4. There is always a variety of school programs which include teaching resources and class room activities associated with the Festival program and WA curriculum linked. If you are a teacher you can email [email protected] to receive a copy of our teachers handbook.
ASD Guide:
AWESOME Arts continues to partner with DADAA (Disability in the Arts, Disadvantage in the Arts Australia) to deliver special navigational guides linked to our Festival program. We develop the ASD guide each year in order to help families make the most of their AWESOME experience.

Events
Alvin Sputnik: Deep Sea Explorer
Location