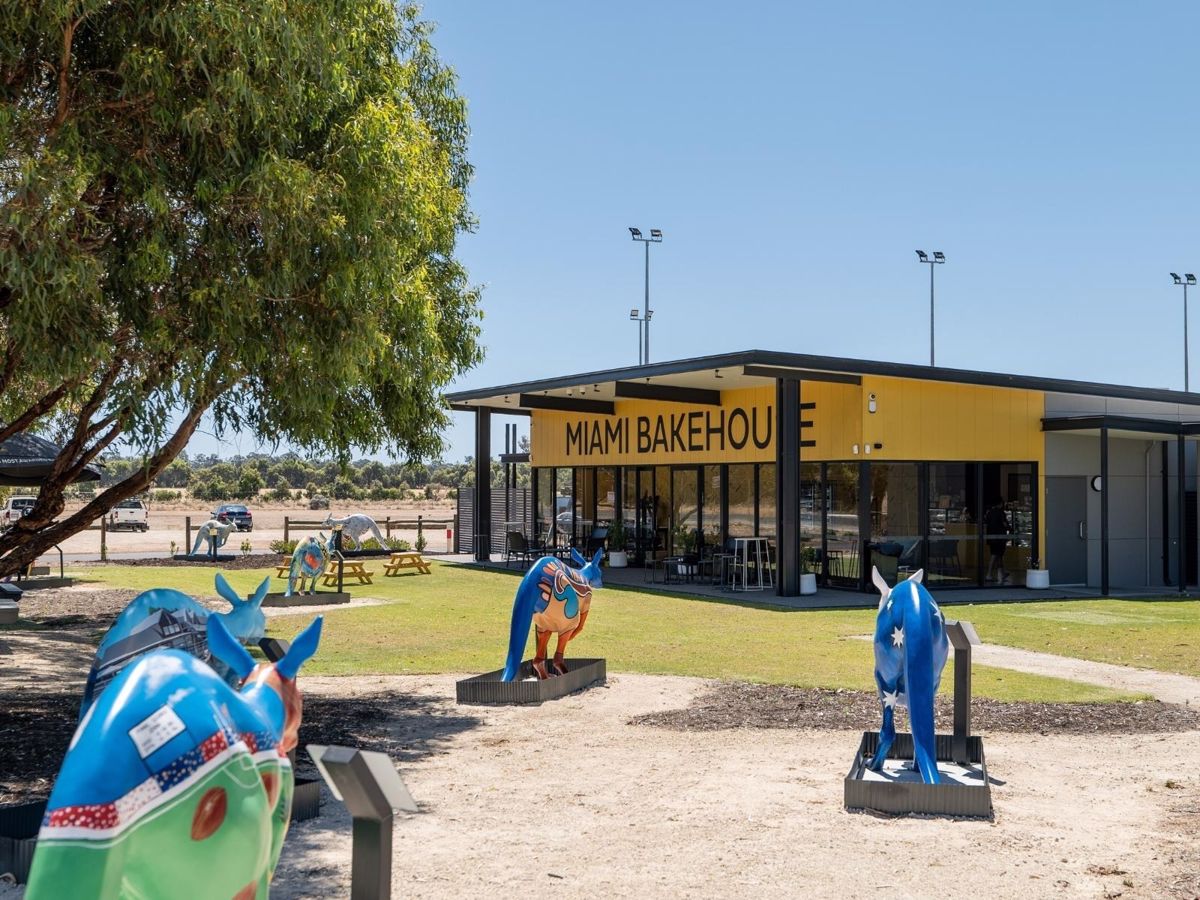 The Myalup KangaArt Gallery combines two quintessential Aussie icons, the Aussie meat pie and kangaroos, this art installation is the perfect must-see to add to your road trip itinerary.
Open Days/times:Open 7 Days
Represented Artists:Samantha Prentice, Marta Galindo, Mel McVee, Jessica Nye, Elli Moody, Vicki Sangster, Nas Ghadiri, Kartika Zhuang, Steph Mateo, Renee Barton, Alicia Rogerson, Sarah Long, Sioux Tempestt, Wendy Binks, Dave Guhl, Catia Dolzadelli, Richard Aitken, Ian Mutch,
Galleries:Installation,Painting,Public Art Gallery
Details
Galleries:Installation,Painting,Public Art Gallery
Facilities:Cafe,Free,Wheelchair Access
Open Days:Monday,Wednesday,Friday,Sunday,Public Holidays,Saturday,Thursday,Tuesday
Description
Travelling down-south to the Margaret River region? Road-trips to the south-west just got a little bit more fun with art you are bound to love. An exciting road-trip rest-stop in Myalup, is home to the KangaART Garden, with 16 life-sized Kangaroos, beautifully painted by local West Australian artists and celebrity collaborations are displayed in an outdoor gallery for visitors to the South West to enjoy. Another four Kangaroos roam amongst the other four Miami Bakehouse Cafes for all road-trip travelers to enjoy. Enjoy the art vibe and Kanga-selfie opportunities whilst taking a rest-stop along the Forrest Highway at WAs most awarded bakery, the Miami Bakehouse's purpose-built café in Myalup. Sample a handmade award-winning gourmet WA Stirling Ranges classic steak pie and stroll through a unique road-trip experience in the grassed picnic area. To learn more about the making of KangaART and the artists involved, visit Miami Bakehouse in Myalup to scan the QR codes for more information on the project visit www.kangaART.com.au Combining two quintessential Aussie Icons, the Aussie Meat Pie and the Kangaroo, KangaART is a truly unique art project in WA. .
Related
Miami Bakehouse West Pinjarra Northbound
Miami Bakehouse - Forrest Highway Southbound
Location