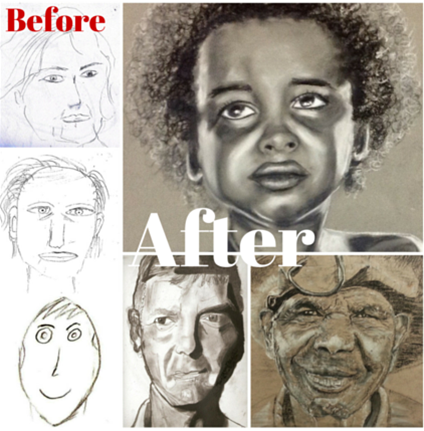 Extraordinary Mind Project - Find Your Hidden Creativity
More magic in life… find your hidden creativity! Practical information on the mechanics of the brain allows adults deep, easy access to previously hidden (forgotten?) creativity - via drawing class
Dates:Various Days
Time(s):Various Times
Venue:Multiple Venues
Details
Description
WHICH OF THESE IS MOST YOU?
A. You sense that there's more to you and to your creativity
B. "I don't have a creative bone in my body!" you say. You have proof! You are jovial about it. But deep down - when and if you looked - you would likely come across disappointment and a wish that it wasn't true.
C. 'Stuck, at a standstill in life' - the feeling is too familiar. (Great news, because it may entice you to the edge of your comfort zone, where creativity lives.)
D. Sometimes you just wish you were more creative!
If any of these apply then chances are the way your brain is currently wired is holding your creativity (and you) prisoner.
Want to break free and let your hidden talents show?
Participants in Extraordinary Mind Project courses will tell you that being bowled over by unexpected talent that emerges during a deep flow state changes everything!
Partly because you are shocked (or at least very surprised!) by what you have been able to do. "Oh, my goodness, I had no idea I could do that!"
And partly because it seems so completely natural. It occurs as some new 'truth' about you!
Special, brain-aware drawing exercises are the context for exploring this method and re-connecting with your natural born creativity. And ...
Startlingly improved drawing is just the beginning!
- Awaken an amazing sense of possibility and inspiration for anything that you wish to take on.
- Feel the peace and relief of 'coming home' to your patiently creativity.
- Dwell for a while in deep, rejuvenating relaxation!
Many participants report benefits they didn't expect, such as better concentration at work, more confidence in many situations, and less reactivity.
One, Kerry Nunn, found her depression disappeared and the classes have helped her publish a book listed by Curtin University as recommended reading.
Get started right away for free!
Leave your 'to do' list behind and be in the world in a different, 'unstuck' way for awhile.
In just 2.5 hours in a Free Introductory Workshop:
Discover key practical information on how to slip past brain patterning and reconnect with the creativity we all have in spades as young children.
See 'before & after' examples which illustrate what is possible for you, too! It works for stick man level drawers through to professional artists.
And 'try on' some of the ideas on the spot, for yourself, in the form of some simple drawing exercises.
The Free Introductory Workshop is informative, transforming and a fun event in itself – well worth attending! No obligation.
Join 3,700+ participants so far!
Workshops and courses rotate through multiple locations - Murdoch, Mt Lawley, Winthrop, Claremont, Joondalup, Kalamunda.
The associated course, Draw Your Way To Creativity, is available in two formats: 8 week and 4-day intensive. See venues and dates: http://www.extraordinarymind.com.au/calendar.htm
Location
Venue:Multiple Venues
Address: South Street,Murdoch,WA,6150
Phone: 0488 755 088
Email: [email protected]