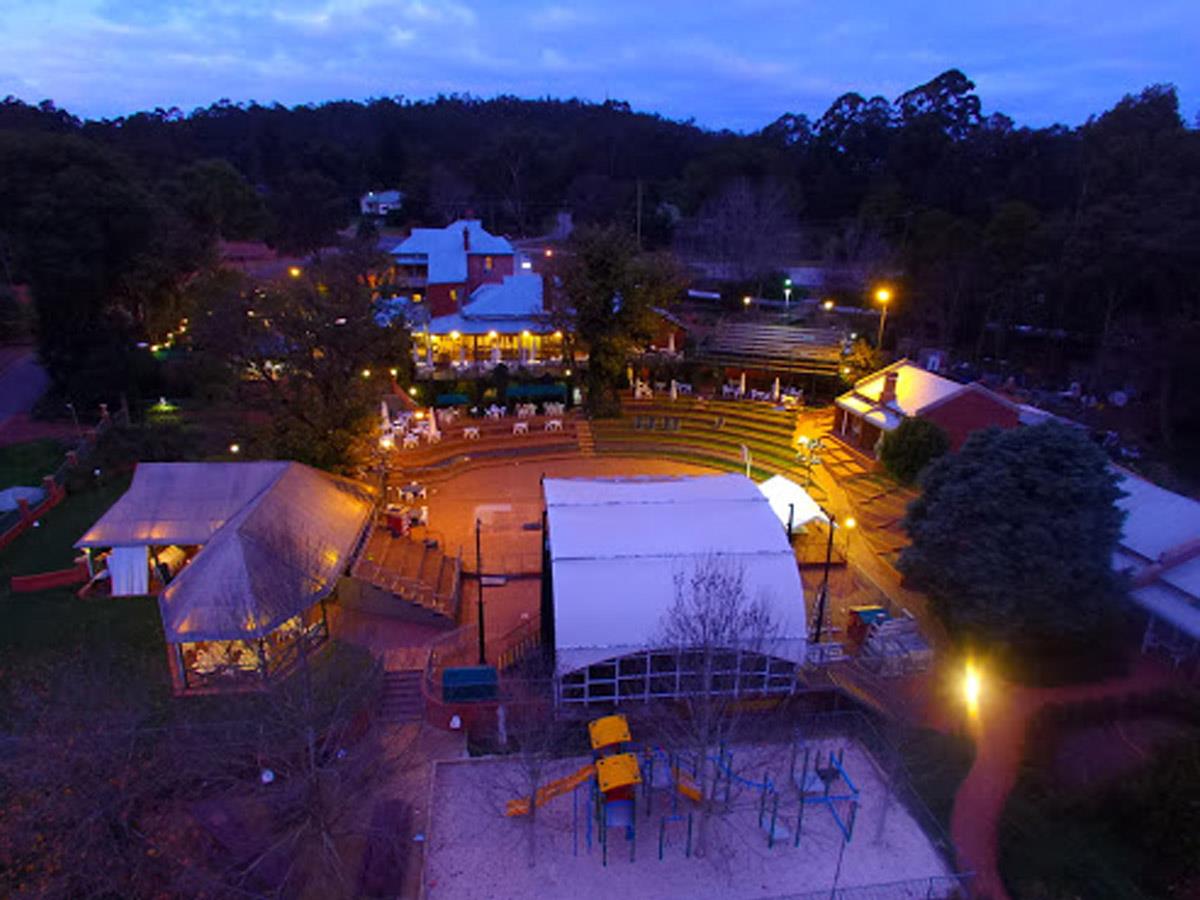 Mundaring Weir Hotel Amphitheatre
We are a turn-of-the-century establishment, built for the workers and visitors to the nearby Mundaring Weir, the vision of architect C.Y. O'Connor. Nestled in the Perth Hills, amid the state Jarrah forests, our hotel provides excellent facilities for corporate seminars in a very relaxed atmosphere. Music has been our signature for many years, and our outdoor concerts are unique events for young and old.
Facilities:Theatres,Entertainment Venues
Details
Facilities:Theatres,Entertainment Venues
Description

Less than 1 hour from the heart of Perth, the Hotel provides the perfect venue for a social outing. Dine in the downstairs coffee shop (weekends), the historic Duke and Duchess dining room, or in the Tree-Tops restaurant overlooking the amphitheater where regular summer concerts boast music from jazz to popular rock bands.
The grounds provide the perfect chilled atmosphere, and there is something to do for kids of all ages. Explore history, and browse the artifacts collected over the 35 years that the Hotel has been in the hands of the current owner, Jens Jorgensen.
The Hotel offers many opportunities to experience the regions natural beauty. We are at the center of many trails meandering through the state forest and around the Weir. Two new walk trails established by the National Trust give a wonderful interpretation of the Weir and its surroundings as you walk. The 963.1 kilometer Bibbulmun track goes past the Hotel, with the terminus 15 kilometers away in Kalamunda.
Mundaring Weir Hotel celebrates Sundays with a traditional lamb spit roast, wood fired pizzas and a seasonal counter meal menu. Live music is also a regular Sunday offering, with one of our three resident bands. The bush band or pop-folk music is popular with young and old alike.
We can cater to all aspects of a personalised wedding- from the ceremony through to reception, with dancing in the original ballroom, to a room to retire to at the end of the evening.
Location
Address: Mundaring Weir Hotel Amphitheatre, Mundaring Weir Road,Mundaring,WA,6073
Phone: (08) 9295 2048
Email: [email protected]