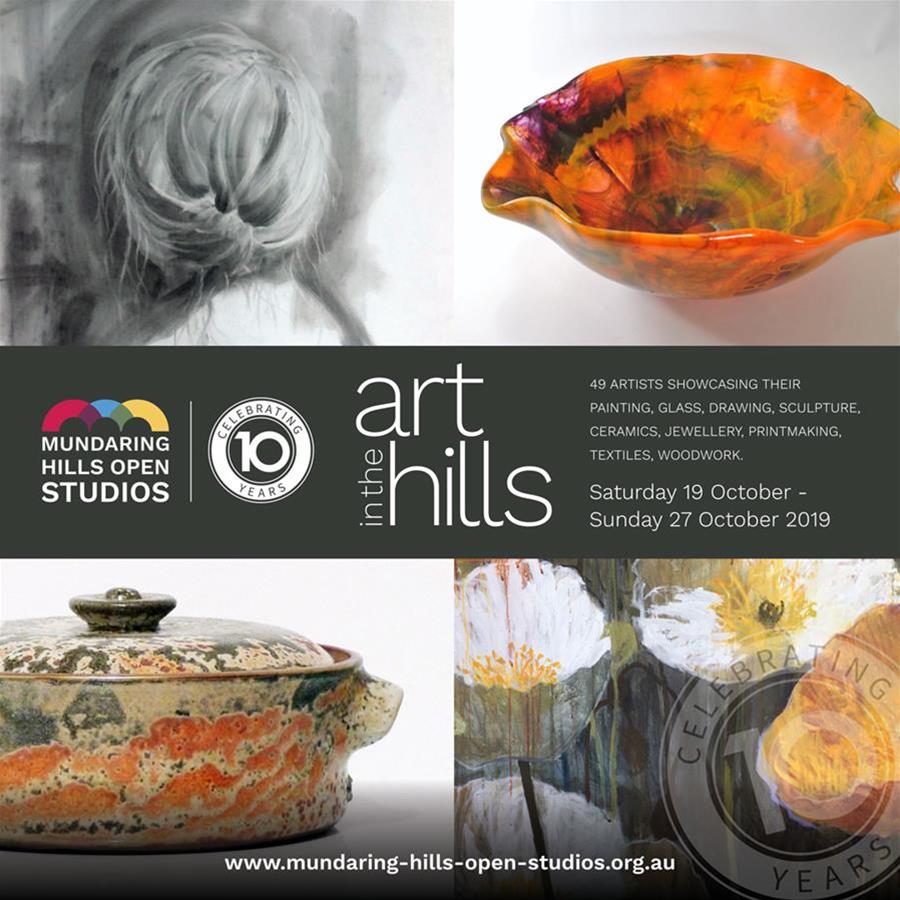 Mundaring Hills Open Studios
The Mundaring Hills Open Studios event is a chance to experience the lives of our local artists and gain an insight into their work be it painting, ceramics, glass, textiles, sculpture and woodwork.
Dates:Saturday 19 October-Sunday 27 October 2019
Time(s):10am-4pm
Details
Ticket Price:FREE
Audience:Adults,Family-Friendly
Description
This year marks the Tenth Anniversary of a very special event initiated by a small group of talented enthusiasts
in 2009.
Ongoing participation has given the artistic community living in the Mundaring hills the opportunity to open their studios in late October and to share their work and environment with fellow artists and visitors.
Following a successful trial of extended opening times last year, some 27 studios and the work of 49 artists will be showcased this season between Saturday 19 and Sunday 27 October. Actual opening days are individual for each studio and their times are detailed in the brochure and on the web.
If you can't make it to the hills for the weekends, check and see if the studios are open to the public on the days between or perhaps by private appointment.
The Mundaring Hills Open Studio event is a rare opportunity to experience the lives of our local artists and to gain an insight into their work environment, skills and methods.
The open studios will give you access to art work in an incredible range of mediums – from glass and ceramics to oil paint, water colours, textiles, wood and recycled metals and much more.
The artists too range across the spectrum – from professionals with international acclaim to those who work part time or as a hobby – and all of them want to share their creativity with you. This is an opportunity to talk to them, explore techniques, share ideas, admire art and even acquire a unique piece of local artwork.
On the trail there are also many delicious food venues, pubs and wineries and a range of picnic spots – all welcoming you to the hills environment and helping you to create a memorable visit.
Location