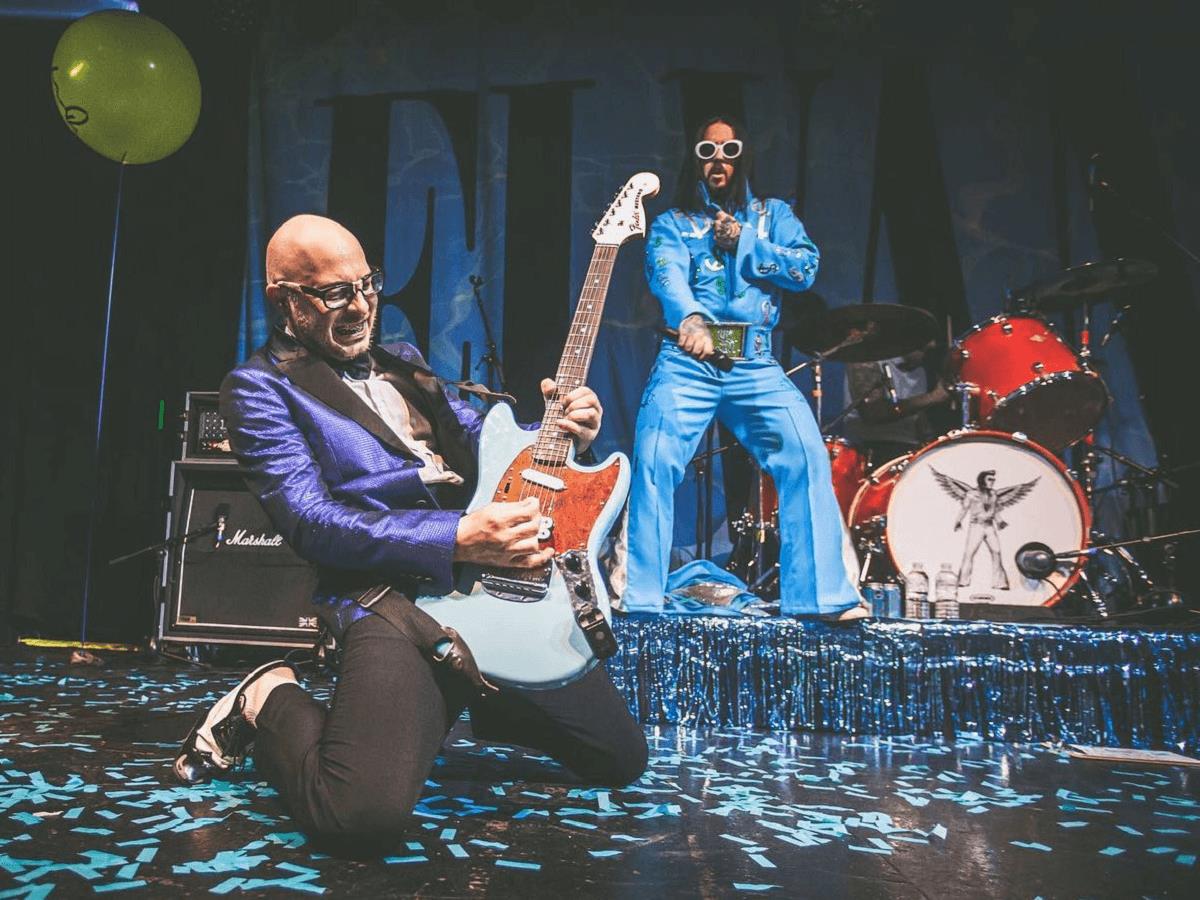 ELVANA: Elvis Fronted Nirvana (CANCELLED)
The world's best and only Elvis-themed Nirvana tribute act "ELVANA" have announced their Australian tour in 2020.
Dates:May 25
Time(s):Doors: 7:30pm; Show Commences: 8:00pm
Venue:Astor Theatre
Details
Venue Address:Astor Theatre, 659 Beaufort St, Mount Lawley WA 6050
Venue:Astor Theatre
Audience:Adults
Description
When Elvis replaces Kurt Cobain as Nirvana's front man, ELVANA takes the stage. ELVANA raises the dead as Rock & Roll and grunge collide, bringing head-to-toe leather and sequins back to life. See them on stage May 25 at the Astor Theatre in Mount Lawley.
Comprising of Elvis, Danny Cobain, Rob Novoselic and Bobby Grohl, ELVANA takes audiences on a journey through Nirvana's catalogue, splicing in the King of Rock & Roll's finest moments. He's not the King you're used to when he's had a little grunge mixed in. The sound is an audible love of overdrive & old school Rockabilly. It smells like teen spirit, tastes like fools gold and sounds like nothing you've heard before!
"Ladies and gentleman of Australiashire! You are about to witness something you've never ever seen before... In a good way! We couldn't be any more excited to bring our lil ol' show down under and boy are we gonna have one hell of a time!? Come as you are, mate." Said Elvana frontman, "Elvis."
What started as little more than a joke, with four friends from North-East England forming an Elvis fronted Nirvana tribute act for a fancy dress party, has now snowballed into a completely unique live experience that has taken the world by storm. Catch them on their first stop of their Australian tour when they visit Perth.
Tickets go on sale at Tickitek Nov 6 at 7:00am.
After dinner before the show? Enjoy a bite to eat with two of the best local restaurants offering you a show-night discount. Visit the Queens Tavern or the Fat Dragon and mention the "Astor Theatre Special" when booking. Present your tickets at the time of payment.
The Queens:
Astor Theare Patrons recieve 20% off the total bill (capped at $30 per booking).
"Astor Theatre Special" to be mentioned when booking.
Show tickets to be presented at the time of payment.
Website: thequeens.com.au
Bookings: 08 9328 7267
Address: 520 Beaufort Street, Highgate WA 6003
Fat Dragon:
Astor Theatre Patrons recieve 10% off the total bill.
Offer is only valid for bookings on the day of the show.
"Astor Theatre Special" to be mentioned when booking.
Show tickets to be presented at the time of payment.
Not valid with online bookings.
Website: fatdragon.com.au
Bookings: 08 9371 8888
Email: [email protected]
Address: 80 Walcott St, Mount Lawley WA 6050
Events
Wil Anderson: Wil-Informed
Trixie And Katya Live: The UNHhhh Tour
Thelma Plum - Homecoming Queen Tour (POSTPONED)
The Whitlams - Gaffage And Clink 2020
The Robertson Brothers 1960S Tv Variety Show
The Fabulous Caprettos (CANCELLED)
Short Stack Tour 2020 (POSTPONED)
Queen's Bohemian Rhapsody Tribute Tour
Phil Walleystack Findjaway Tour
Miss Burlesque WA Finals 2020
Mirusia: A Salute To The Seekers
Julia Morris - I'm Not Even Joking
Johnny Cash The Concert: Back to St Quentin | Astor Theatre
James Reyne - Boys Light Up 40Th Anniversary Tour
Ivan Aristeguieta - Piñata (POSTPONED)
Isaac Butterfield: Outlaw
Hart Plays Hendrix (CANCELLED)
Elvis: An American Trilogy
Ed Bryne | Astor Theatre (POSTPONED)
Dweezil Zappa (POSTPONED)
Doug Parkinson – An Evening Celebrating The Music Of Van Morrison (POSTPONED)
David Hobson & Colin Lane - In Tails (CANCELLED)
Celebrating Australian & American Bandstand (POSTPONED)
Bay City Rollers (POSTPONED)
Baby Animals + Killing Heidi "Back To Back" (CANCELLED)
"Simply The Best" Rebecca O'Connor As Tina Turner Live At The Astor Theatre
Location
Venue:Astor Theatre
Address: Astor Theatre, 659 Beaufort St,Mount Lawley,WA,6050
Phone: 9370 1777
Email: [email protected]