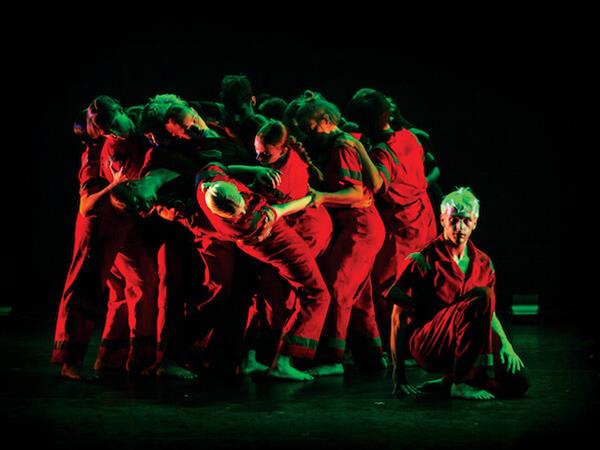 Arrival
Expect the unexpected.
Dates:Sep 2nd-5th
Time(s):7:30pm; Sat Matinee 2:00pm.
Venue:Enright Studio
Details
Hosted By:WAAPA
Venue Address:Enright Studio, 2 Bradford St, Mount Lawley, WA
Ticket Price:$25
Ticket Price FROM:$18
Ticket price TO:$25
Venue:Enright Studio
Audience:LGBTI,Adults
Description
Two rising Melbourne-based choreographers create dynamic new contemporary works on the LINK Dance Company for their final 2020 season. WAAPA welcomes alumna Niharika Senepati, who since 2012 has worked closely with Chunky Move's artistic director Anouk van Dijk as a dancer and choreographic assistant. Senepati's own work incorporates movement, sound and text to create a holistic experience. Joining Senepati on the Arrival program is James Welsby, a performer, choreographer and producer of dance, cabaret and queer performance. A VCA graduate, he co-founded independent dance collective Phantom Limbs, toured Australia in 2015 with his full-length show Hex, and is the founding artistic director of festival favourite cabaret show, Yummy.
Performance Timetable:
2nd Sep 7:30pm
3rd Sep 7:30pm
4th Sep 7:30pm
5th Sep 2:00pm
1st Jan 8:00am,
1st Jan 8:00am, 1st Jan 8:00am, 1st Jan 8:00am, 1st Jan 8:00am, 1st Jan 8:00am, 1st Jan 8:00am, 1st Jan 8:00am, 1st Jan 8:00am, 1st Jan 8:00am, 1st Jan 8:00am, 1st Jan 8:00am, 1st Jan 8:00am, 1st Jan 8:00am, 1st Jan 8:00am,
5th Sep 7:30pm
Events
World Tour: Guitar (POSTPONED)
World Of Schubert (POSTPONED)
WAAPA Postgraduate Research Showcase (POSTPONED)
Waapa Jazz Young Artists Ensemble (POSTPONED)
Viennese Delight (POSTPONED)
The Wild Cherry Project (POSTPONED)
The 'Phone Co. With Strings Attached
The German Romantics: A Lieder Recital (POSTPONED)
The Four Seasons: Vivaldi And Piazzola (POSTPONED)
Sound Spectrum 2020.1 (POSTPONED)
Royal Over-Seas League Showcase
Raiders Of The Lost Art (POSTPONED)
Orpheus In The Underworld
New Directions In Peruvian Music
Morning Melodies: Cool Classics (POSTPONED)
Magical Vienna (POSTPONED)
Instruments Of Time And Truth
Guitar Artistry: Jane Curry
Classical Music Accolades
Carnival Of The Animals (POSTPONED)
Benny Green Jazz Messenger (POSTPONED)
Aurora Percussion Duo (POSTPONED)
Aboriginal Performance Cohort Showcase 2020
Related
WAAPA School Holiday Program
Propel Dance | WAAPA Short Courses
Location
Venue:Enright Studio
Address: Enright Studio, 2 Bradford St,Mount Lawley,WA,6050
Phone: (08) 9370 6636
Email: [email protected]