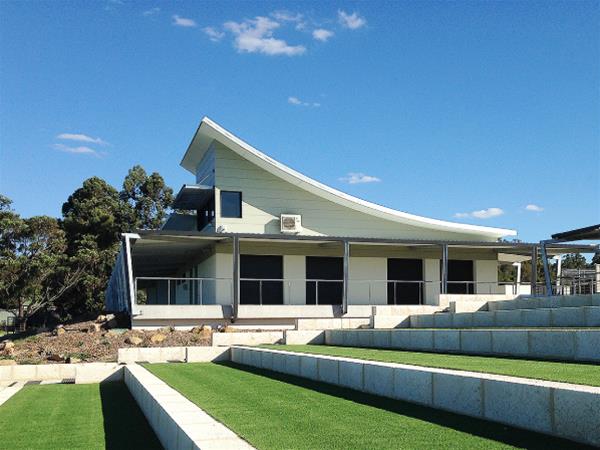 Sounness Park Recreation Facility
Sounness Park's main entry point adjoins McDonald Avenue. The local Sounness family vested the land to the Shire, for the purpose of recreation.
Facilities:Sports Facilities
Details
Facilities:Sports Facilities
Description
Mr Tuck Waldron MP opened the revamped Sounness Park on 9 May 2015, marking a sporting milestone in the Shire of Plantagenet, with the provision of a high quality central sports zone walking distance from the Mount Barker town centre. This state of the art facility boasts a central clubhouse and change rooms surrounded by three playing fields being; a combined football/soccer oval, synthetic hockey field and a combined cricket/soccer oval. Stage 2 and 3 of the redevelopment was unveiled by Mr Rick Wilson MP on 11 April 2016.
Plantagenet Sporting Club Inc was formed in 2016 primarily to facilitate communication between the founding four clubs being Mt Barker Cricket Club, Mount Barker Bulls Football Club, Mt Barker Hockey Club and Mount Barker United Soccer Club, and to manage the clubhouse and change room facilities for the enjoyment of the greater community. The Mount Barker Tennis Club is located to the left of the Sounness Park entrance.
The grounds infrastructure includes:
Reticulated football/soccer oval
Reticulated cricket/soccer oval
Cricket nets
Synthetic hockey field
Childrens playground
Public toilets and;
Central clubhouse and change rooms available for hire
The Shire of Plantagenet is responsible for the maintenance of the grounds.
The facilities are currently utilised by:
Mt Barker Cricket Club
Mount Barker Bulls Football Club
Mt Barker Hockey Club
Mount Barker United Soccer Club
All Stages of the Sounness Park redevelopment are now complete. Please click here to see more details. Check out this drone footage, courtesy of Ken Brown at Shoot It WA, showcasing Sounness Park. Ken also kindly provided photos 2 and 5 below: https://www.youtube.com/watch?v=VuJFLejbvsQ
For all bookings of the Sounness Park clubhouse and change room facilities, please contact Facilities Coordinator Hilary Watterson on 0447 194 259, email: [email protected] or visit their website www.plantagenetsportingclub.org.au
Location
Address: Sounness Park, McDonald Avenue, Mount Barker Mount Barker 6324,Mount Barker,WA,6324
Phone: 0447 194 259
Email: cont[email protected]