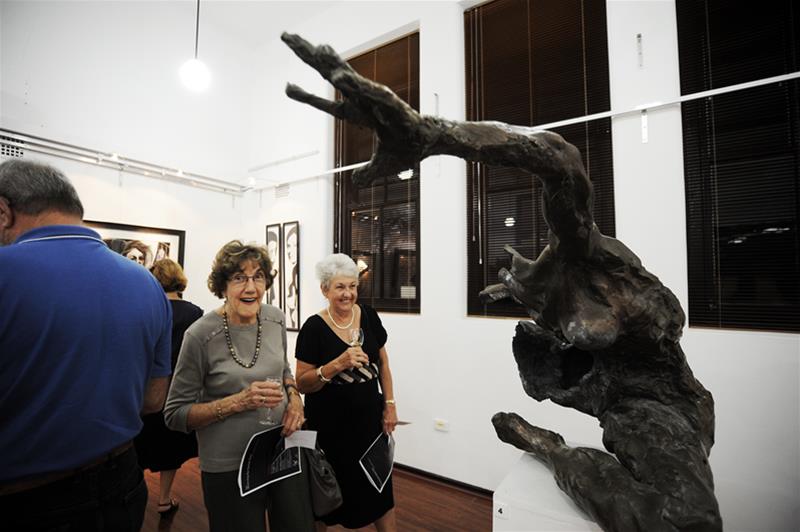 Midland Junction Arts Centre
MJAC is a multi-arts space perfect for exhibitions, creative development, performance, classes and special arts events all year round. The Swan Art Awards, November 2012.
Open Days/times:Wednesday - Friday 10am - 5pm, Saturday 9am - 1pm (during exhibitions only)
Galleries:Drawing,Glass,Installation,Jewellery,Painting,Photography,Pottery,Sculpture
Details
Galleries:Drawing,Glass,Installation,Jewellery,Painting,Photography,Pottery,Sculpture
Open Days:Saturday,Wednesday,Thursday,Friday
Description
The City of Swan's favourite arts and culture venue, the Midland Junction Arts Centre (MJAC) offers an annual feast of visual, performing and youth arts for visitors and residents to join in! Hosting two annual art exhibitions a year, numerous community art exhibitions by local and visiting artists, a range of arts activities during winter, HYPER Vision youth art exhibition and Hyper festival HQ, year round visual art workshops and numerous live music shows, MJAC offers a program that is diverse, inclusive and exciting.
Located in beautiful surrounds in front of Juniper Gardens, the MJAC is conveniently located next to a range of dining options and Midland Gate Shopping Centre on Great Eastern Highway, Midland.
The heritage listed, newly refurbished venue features three generous gallery spaces, an intimate 140 seat theatre/auditorium, a leafy courtyard as well as dance rehearsal and printmaking studios, specialist arts equipment, resident orchestra's sheet music collection, City art collection works, various storage spaces for current users.
Looking very different today, the arts centre is a far cry from its humble beginnings as the Midland Junction Technical School in 1904. In 1909, the school extended its curriculum to include art classes - marking over 100 year's tradition of community involvement in art! The building has also housed a TAFE, primary school, and most recently the Australian Opera Studio, before being leased from the Midland Redevelopment Authority by the City of Swan for creation of the arts centre.
For more information and previews about events and activities at MJAC visit the Midland Junction Arts Centre facility.
Art Workshops
The City of Swan is committed to offering you a diverse line-up of workshop opportunities in 2012. The MJAC is where you will find activities like printmaking, contemporary painting and portrait drawing - just some of the options available to get involved in.
All tutors have extensive industry experience in arts education; sharing with you their accumulated talents and abilities in a friendly and supportive environment.
Participation and skill sharing are core features of the workshop - so whether you are beginning your arts journey or are a regular exhibitor - the courses are inclusive of all levels of experience and ability.
Swan Art Awards
The City of Swan will launch entry to the 2012 Art Award soon. The annual acquisitive Art Award showcases the creative talent within the artistic community of Western Australia and allows for the Excellence Award winner's work to enter the City's art collection. All artworks exhibited are available for sale, and is due to open in November.
The City of Swan Excellence Award stands at $12,000; with five categories totaling over $20,000 in prizes, including a People's Choice sponsored by Midland Gate Shopping Centre.
Performing Arts Program
The MJAC is also a renowned Performing Arts venue, with a program on offer that provides audiences with a unique choice of live events and activities to choose from. Focusing on live music, contemporary dance, drama and musical theatre the program provides opportunities to enjoy the diversity of talent that is currently on tour in Western Australia at affordable ticket prices. The performing arts program also supports the development of creative performance works.
Events
Gecko Ensembles Midland – Weekly Drama Classes with Barking Gecko Theatre
Related
Swan Guildford Historical Society Colonial Gaol and Taylor's Cottage
Monet Gallery of Fine Arts
Location