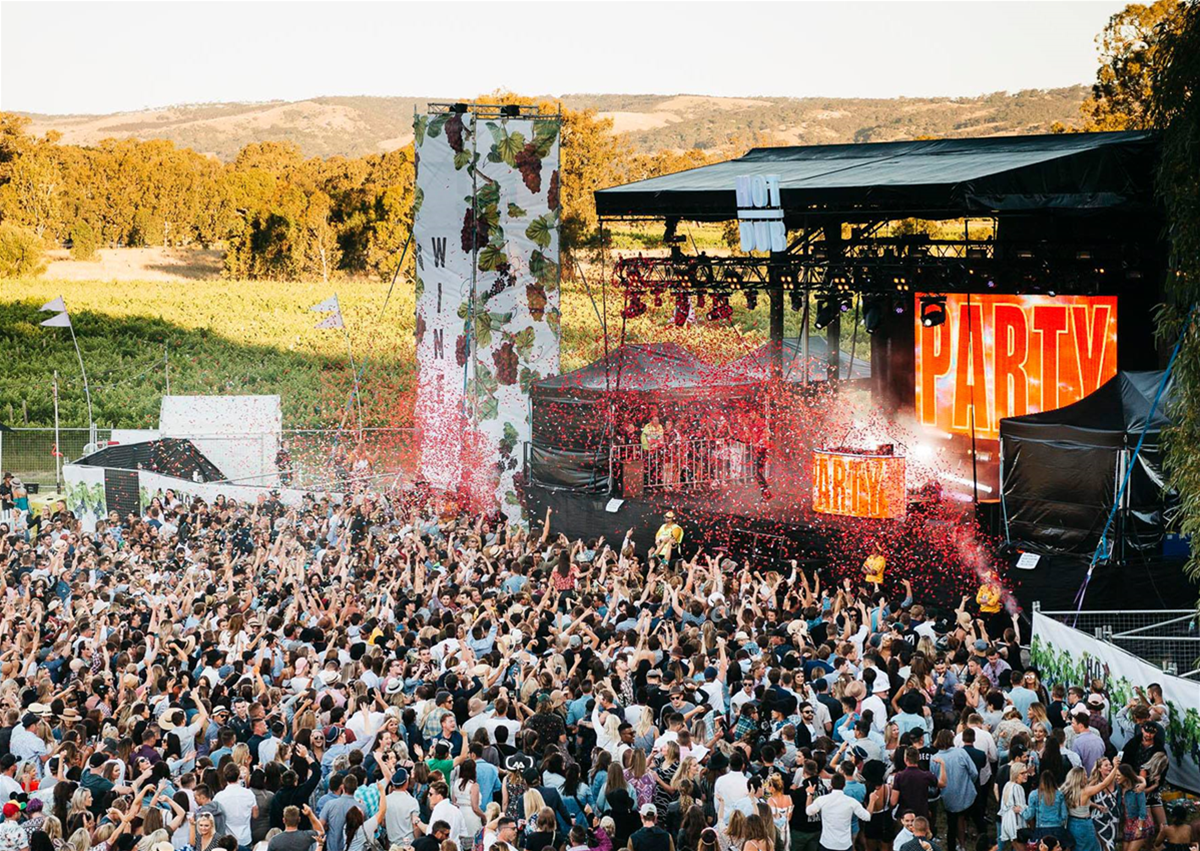 Hot Dub Wine Machine
This April, WA audiences will be given the opportunity to immerse themselves in the exceptional experience that is Hot Dub Wine Machine as it expands nationally into a (wine) tour like no other.
Details
Description
Cast your mind back to December. As we all flew from one stock-standard festive do to the next, something out of the ordinary went down in Adelaide (yes, of all places). A few (thousand) lucky people gathered on the rolling green hills of Serafino Winery, in the McLaren Vale, to welcome the inaugural edition of something that went by the name of 'Hot Dub Wine Machine'.

While they knew little, over 6,000 Adelaide wine and music lovers rosé to the occasion… and they were rewarded tenfold. A giant custom-built stage flanked by rows of grapevines! Rockstars arriving by chopper! Hundreds of red balloons! Gourmet food! Australia's best bands, back to back! And a Hot Dub Time Machine set to end them all. All toasted to with custom-made red wine featuring Hot Dub's own insignia. It truly was, the Best. Party. Ever.

The footage that's emerged has since caused serious levels of fomo throughout the rest of Australia, who hoped and prayed that one day, they too could be a part of Hot Dub Wine Machine….Well, that day has finally come (longest four week wait ever, right?). Hold out your glass brother, because Hot Dub Time Machine and Falcona are thrilled to be pouring out the wine for W.A., N.S.W., Victoria, and Tasmania! That's right, this March and April, Australian audiences will be given the opportunity to immerse themselves in the exceptional experience that is Hot Dub Wine Machine as it expands nationally into a (wine) regional tour like no other. Escape the big smoke and come un-wine-d with Hot Dub and his carefully curated collection of famous bands and djs - food, wine, and merry-making in the spirit of a traditional European get-together in the grapevines. We chianti think of a better way to spend a sunshine-soaked, late summers' day!

Hot Dub Wine Machine is a civilised, boutique offering, with a capped capacity – which means there will be plenty of space to find a comfortable spot to relax, while taking in sweeping views of the scenic vineyards, and the stage spectacular. The live concert experience will retain the intimacy and familiarity accompanying one of Hot Dub's nightclub shows, whilst taking on scale of a larger outdoor event, with an array of attractions on offer. At each Wine Machine, attendees can expect to quaff their way through top-notch local vino that will dazzle the palette, craft beer and cocktails, to get you loosened up for the dance floor. Also on offer will be a decadent selection of gourmet chow - be swept up in a frenzy of local flavours from fresh finger food to delicious baos and burgers and that's just the start! "The McLaren Vale event was a fantastic vibe," says Loud of what to expect of Wine Machine: "joyous, wild and really good fun".

The forthcoming Wine Machines across Australia in April and March will follow suite; with each outdoor location equally as stunning as the vineyard vistas of McLaren Vale….
HOUGHTON WINERY, SWAN VALLEY

Dancing down by the river to Hot Dub.

W.A., you score Houghton Winery, in the stunning Swan Valley region. Does a stage on the banks of the Swan River, surrounded by lush gardens - stately pines, verdant vines, and Houghton's signature Jacaranda trees – sound OK to you, Perth Wine Dubbers? And only a brief, 30-minute drive from the CBD (but we'll leave that to the chauffers of the classic Jag you're rolling into the Valley in, like the suave hellcat you are!). Hot Dub Wine Machine is surely set to join the region's signature events Spring In the Valley, Welcome to the Valley, and Electric Vines as an annual calendar highlight for music, wine and food lovers in W.A.

Hot Dub Wine Machine is the exciting next chapter in the career of Sydney artist Tom Loud, whose innovative, audiovisual party Hot Dub Time Machine continues to draw epic crowds, both at home and abroad. Loud's 2016 was spent playing smash-hit total sell-out seasons worldwide (including shows at London's historic Forum and the Edinburgh Fringe Festival) and ended with headline spots at the Falls Festivals across Australia. Says Loud of the project's evolution: "Our Hot Dub team is on a constant mission to make sure every time people come to our show, it's more epic, more exciting. We decided the next step was to turn the set into a boutique all-day event - take it al fresco with a scenic location, and get some great Aussie bands and DJs on board. Someone suggested the name Wine Machine, and it took off from there."

Hot Dub Wine Machine features a hand-picked line up of the cream of Australia's music scene, with a full announcement of artists forthcoming very shortly. Naturally, Hot Dub will roll out his own signature, set – a two-hour, time-travelling dance party, where the audience is invited, vis a vis a flight attendant on the bigscreen, to twist, moon walk and head-bang their way from 1954 to the present day, via an iconic song from each year, mixed live by Loud.

All the classic Hot Dub Time machine vintages will get a spin, and audiences can also expect some extra tasting notes, particular to the 'wine song' region. Since developing the concept, the Wine Machine leader has become full-bottle on the best wine-drinking songs of all time: "I think a simple dance move, chant or both make a great drinking song," says Loud, "My fave is the 'Wine Song' by the Cat Empire. It has a great Zorba The Greek-style build up and some awesome lyrics about Aussie summers."

Hot Dub Wine Machine is highly recommended for anyone partial to indulging in Epicurean delights, to sharing gourmet picnic hampers with great friends on starry nights, and for those who know how to get (Verde)lho on the dancefloor – if after several wines all you ever want to do is twist, shout and let it all out, you've come to exactly the right place!
Location
Venue:Houghton Wines
Address: 148 Dale Rd,Middle Swan,WA,
Phone:
Email: