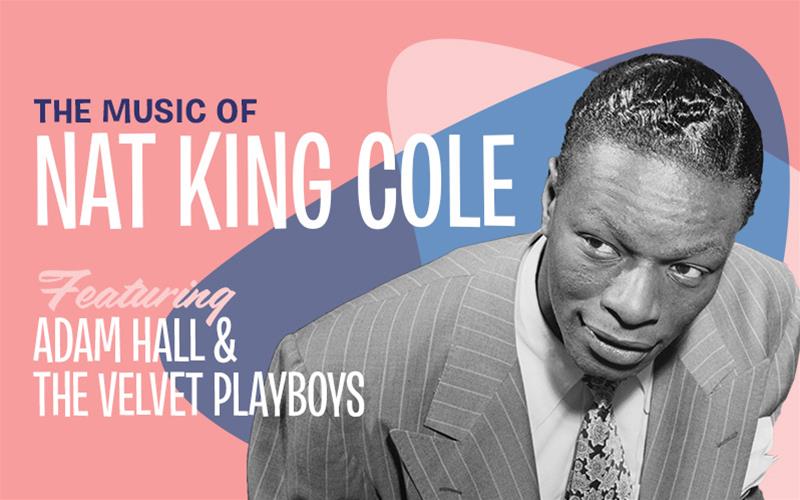 The Music of Nat King Cole feat Adam Hall and the Velvet Playboys
"I'm not playing for other musicians, we're playing for the guy who works all day and wants to spend a buck at night. We'll keep him happy" Nat King Cole
Dates:Feb 4 - 6
Time(s):7pm-8pm
Venue:Lyric Lane
Details
Hosted By:Adam Hall
Ticket Price:$25
Venue:Lyric Lane
Festivals:Fringe Festival
Description
Adam Hall and the Velvet Playboys have always played "pretty music for the people" and now we proudly present the Music of Nat King Cole. One of the greatest performers to have ever graced the stage, this will be a magic evening spliced with images and the feeling of the Swing Era.

Featuring all the hit songs such as "When I Fall in Love", "Unforgettable", "The Way You Look Tonight" & "LOVE", this is one not to be missed.

"I have never been able to sit still during an Adam Hall and the Velvet Playboys show... It had me smiling, bopping, swaying and singing along" - The West Australian
Presented by:
Adam Hall
Adam Hall & The Velvet Playboys are an institution of the Australian music scene and renowned for their captivating live performances, marked by slick presentation and raw energy.
Alongside Adam (Vocals, Trumpet) it features some of Western Australia's finest musicians, including:
Mark Turner (Guitar)
Anthony Dodos (Trombone)
Bronton Ainsworth (Drums)
Kane Shaw (Double Bass)
Tim Voutas (Keys)
The band's repertoire is rooted in the Jazz and Rhythm & Blues music of the 40s and 50s, from artists such as Ray Charles, Frank Sinatra, Louis Prima, Nat King Cole, Harry Connick Junior, Jackie Wilson, Chuck Berry and The Blues Brothers. They also include a large library of Adam Hall originals and unique arrangements.
"Irresistible" Gerd Wieben, Blue Note Germany
Location
Venue:Lyric Lane
Address: 22 Lyric Lane,Maylands,WA,6051
Phone: 0421396050
Email: [email protected]