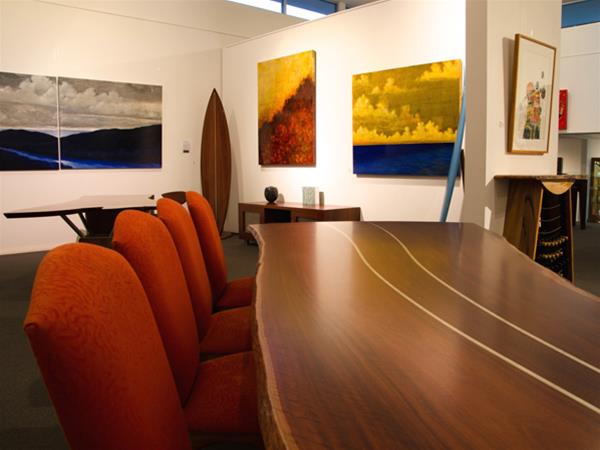 Jahroc Galleries is a must see when visiting the Margaret River Region exhibiting Fine Designer Furniture made by award winning Jahroc Furniture plus Fine Art by some of Australia's leading Artists.
Open Days/times:Open 7 days, 10am - 5pm (closed Christmas Day, Boxing Day and Good Friday)
Represented Artists:We have a stable of over 90 artists
Galleries:Glass,Jewellery,Pottery,Art Gallery,Furniture,Mixed Media
Details
Galleries:Glass,Jewellery,Pottery,Art Gallery,Furniture,Mixed Media
Open Days:Public Holidays,Monday,Tuesday,Wednesday,Thursday,Friday,Saturday,Sunday
Description
Jahroc Galleries is located in the main street of Margaret River down near the river with a beautiful Karri Forest as it's backdrop. The gallery is home to Jahroc Furniture and also exhibits Fine Art, Glass, Sculpture, Ceramic, Fine Wood and Jewellery.

Jahroc Furniture have forged a reputation as Western Australia's leading furniture designer/makers with Gary Bennett and David Paris spending the last 28 years working together producing pieces that have been acquired by collectors around the globe. With over 50 industry awards the Jahroc Furniture design team are by far the most highly award furniture designer/makers in Australia.
With fine artists such as Larry Mitchell, Shaun Atkinson, David Bromley, Janine Daddo, Astrid Dahl, Shannon Hamilton, Di Taylor and Bec Juniper plus a stable of over 60 well known Australian artists Jahroc Galleries simply must be seen when visiting the Margaret River region.

Jahroc's unique collaborative approach with leading artists offers the viewer an opportunity to observe a crossing of genres and through their expansive galleries, to visualize how pieces might work together in their own home.
Jahroc offers a comprehensive packaging and shipping service which means if you fall in love with something in their gallery getting it home is a mere formality that Jahroc takes care of.

Visit Jahroc Galleries in Margaret River today and find why all that do leave inspired.

Related
Argyle Pink Diamonds & Jewellery at JahRoc
Location