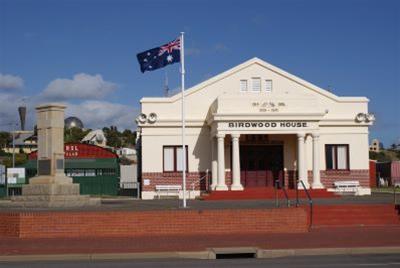 Birdwood Military Museum
The Birdwood Military Museum, situated in Birdwood House, has an amazing display of memorabilia from the Boer War right through to more recent conflicts involving Australian forces.
Details
Museums:Military
Open Days:Monday,Thursday,Friday,Saturday
Description
Discover the Howitzer, learn about the rising sun badge, explore the medal collection and see artefacts made from spent artillery shells.
The RSL is constantly sourcing relics to add to the collection, recent additions include a handmade periscope gun used at Gallipoli and a Spandau gun used by the enemy during WWI.
The Birdwood Military Museum is arguably the finest regional military museum in Western Australia. Funded largely by public donations, it is run by volunteers, most of whom are ex-Service personnel.
With hundreds of artifacts (uniforms, photos, medals, weapons, personal effects) on display, and many more in storage, the museum is a constantly-evolving depiction of Geraldton's and the Mid West's military history.
One of the special items is a homemade Australian flag, which went into battle with two soldiers from the Chapman Valley district – at Gallipoli and in France, England, Lebanon and Egypt.
We run school excursions and group tours and other times can be made by arrangement with the curator.
Location
Address: Cnr Chapman Road & Forrest Street,Geraldton,WA,6530
Phone: (08) 9964 1520
Email: [email protected]