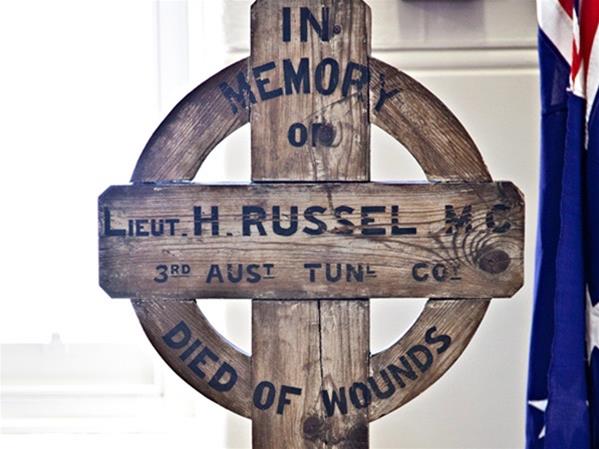 World War One Battlefield Cross
The Memorial Cross to Lieutenant Hugh Russel is one of only a handful of original World War One grave markers returned from the Western Front
Details
Collection Type:Memorials,Military,Mining
Description
As a mark of respect for a valued "mate", the members of Hugh Russel's Tunneling Company retreived his original battlefield grave marker and returned it to his wife in Perth in 1919.
Hugh Russel was born at Highgate, London, England on 11 March 1873. After emigration to Australia he undertook exploration and survey work and qualified as a Land Surveyor. Hugh was a 42-year-old Surveyor and Mine Manager of Perth, Western Australia, when he enlisted in 1916. The 6th Tunneling Company was being formed in West Australia and an addition to the Commissioned ranks was 2/Lt. H. Russel who came to the company from the Pioneers on April 1st 1916. He embarked from Fremantle, Western Australia on board HMAT A69 Warilda on 1 June and arrived in England on 18 July 1916. Most of the 6th Company proceeded overseas to France on 28 August 1916. On 25 September 1916, the 6th Tunneling Company, which had marched in from Etaples, was absorbed into the 3rd Australian Tunneling Company. Hugh was one of four Officers assigned to No.1 Section.
Lieut. Russel's war history is largely associated with the operations on HILL 70 and the underground protection of the front line on the HULLOCH-LOOS-MAROC Sector. This line traversed the Western slope of HILL 70, which was the main enemy position opposite the front. The enemy was trying to force Allied troops further down the slope of the Hill by mining During several months of stiff underground fighting, Lieut. Russel was wounded on three occasions, twice nearly losing his life. However, before many months the enemy was driven back under their own line and by July 1917 the whole of his HILL 70 mining system had been captured. Lieutenant Hugh Russel was recommended for the Military Cross on 30 September 1917 by the Brigadier General, Chief Engineer, I Corps; the citation reading:
"Consistent devotion to duty. During mining operations he displayed marked ability and in the attack on Hill 70, near Loos, on 15th August, 1917 he was Officer in charge of the investigation party which immediately followed the advance and inspected all dugouts for traps &c. His organisation and fearlessness encouraged the men to such a degree that under the heaviest fire the work was not delayed.
On 22 January 1918 Lieut. Hugh Russel was wounded in action in Hythe Alley at Loos and died of his wounds on 23 January. He was undertaking survey work at a theodolite when a shell exploded nearby. His assistant 5001 Sapper J Cardin was killed outright. The theodolite is now forms part of the collection at the Australian War Memorial. Lt Russel and Spr Cardin are both buried at Hersin Communal Cemetery Extension, France. Hersin is a village about 5 kilometres south of Bethune and about 2 kilometres west of the main road from Bethune to Arras. The extension to Hersin Communal Cemetery was taken over by Commonwealth troops and field ambulances in March 1916. It was used until October 1918. The extension contains 224 Commonwealth burials of the First World War; many of the graves are of engineers, mostly from tunneling companies.
Related
Trench Art - Propeller Tip Photo Frames
Painting Lt Gen JJ Talbot Hobbs by Ernest Buckmaster
Medals Private John Horne
Medals Private David Stinton, Settler
Medals Pensioner Guard Private John Keefe
Medals of Pensioner Guard Private John McMahon
Martin O'Meara Victoria Cross Medal
HMS Louis Relic from Gallipoli
Location