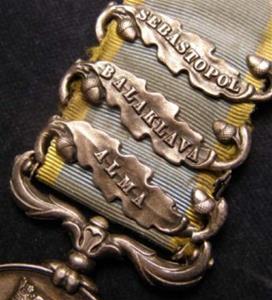 Medals Private John Horne
Crimea War Medal clasps Alma, Balaklava, Sebastopol & Turkish Crimea Medal. Private #2980 John Horne, 79th (Cameron Highlanders) Regiment of Foot.
Details
Description
John Horne's family brought his medals to Western Australia; there is no indication that he came here himself.
Horne was a recruit in Berwick in the 1851 1st Quarter Muster.
Horne was stationed in Ferozpore, East Indies in the 1861 2nd Quarter Muster.
Related
World War One Battlefield Cross
Trench Art - Propeller Tip Photo Frames
Painting Lt Gen JJ Talbot Hobbs by Ernest Buckmaster
Medals Private David Stinton, Settler
Medals Pensioner Guard Private John Keefe
Medals of Pensioner Guard Private John McMahon
Martin O'Meara Victoria Cross Medal
HMS Louis Relic from Gallipoli
Location