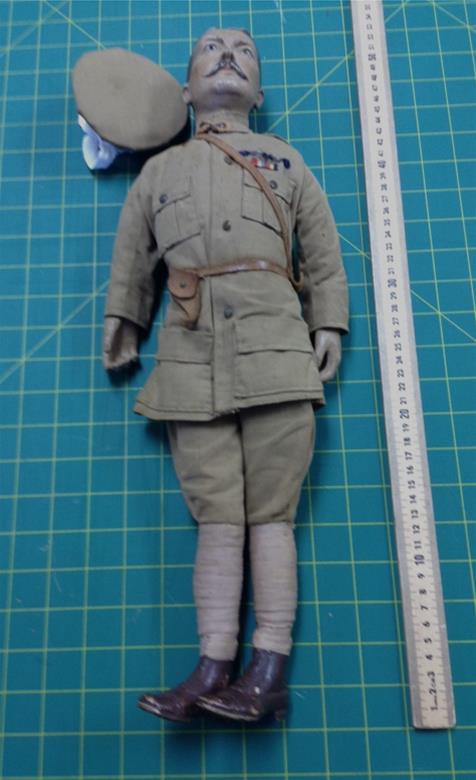 A popular patriotic doll, representing Field Marshall Lord Kitchener, given as a favoured Christmas gift in 1915 to Mollie Mitchell of Wooroloo, when continental fashion dolls were in short supply.
Details
Collection Type:Military,Toys,Art,Memorials
Description
In December 1916, seven year old Mollie Mitchell of Wooroloo, Western Australia asked for a Kitchener doll for Christmas. The doll was made as a representation of Field Marshall the Right Honourable the Earl Kitchener, KG, KP, GCB, OM, GCSI, GCMG, GCIE, ADC, PC (24 June 1850 – 5 June 1916).
This British soldier hero of the Sudan was a key person in the defeat of the Boer Republics. He almost alone foresaw the length of struggle in August 1914 and laid the basis for the recruitment and organisation of the mass British and Empire army that achieved ultimate victory in 1918.
The doll has a cloth body with composition head, hands and feet. The head has moulded hair and moustache. The doll is dressed in a khaki uniform with a leather belt and gun holster. The peak cap is made of the same khaki material and has a leather peak. The ribbons are embroidered and the buttons are fashioned from metal paper fasteners. The doll was designed to be supported on a stand.
Such patriotic dolls were produced commercially but this example appears to have been hand made by wounded servicemen. Because of a shortage of bisque headed fashion dolls from France and Germany as a result of the war, a doll factory was established in Katanning to meet local demand.
Related
World War One Battlefield Cross
Trench Art - Propeller Tip Photo Frames
Painting Lt Gen JJ Talbot Hobbs by Ernest Buckmaster
Medals Private John Horne
Medals Private David Stinton, Settler
Medals Pensioner Guard Private John Keefe
Medals of Pensioner Guard Private John McMahon
Martin O'Meara Victoria Cross Medal
HMS Louis Relic from Gallipoli
Location