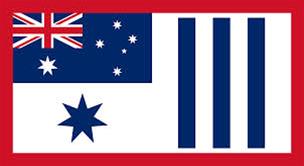 Replica of unique "Honour Flag" awarded to communities for exceeding their subscription total for 7th War Loan, 1918.
Details
Collection Type:Memorials,Military
Description
Beginning in July 1915, the Commonwealth Government floated seven war loans to help fund the cost of Australia's involvement in WW1. Australians were urged to purchase war bonds that would be repaid with interest and the establishment of each loan was accompanied by publicity materials, public events and exhortations from politicians and celebrities to the populace to "do the right thing" for their country. By the end of the war, £250million had been raised from these loans which covered almost 60% of the cost of the war against Germany.
By far the most successful was the seventh loan, which was launched on 16 September 1918 when almost one quarter of all households in Australia joined the scheme. The loan closed on 28 October 1918.
The total number of subscribers to the Seventh War Loan throughout Australia was 241,663 and £43,850,160 was raised . The Federal Treasurer, William Watt, made a statement on 6 November 1918 that the seventh war loan had raised £1million more than the sixth loan. Watt put the success down to the "great determination of the nation to carry on the war, to the better organisation and better publicity, and to the threat of compulsory subscriptions".
Possibly another reason that the seventh loan appealed to the populace and was so well subscribed was that for the first time an 'Honour Flag' (sometimes spelled 'honor') had been produced which would be presented to those local authorities which raised a set amount of money based on their populations.[i] Local committees were set up to promote and manage the fund raising and purchase of war bonds.
The Honour Flag was based on the Australian National Flag (i.e. a whole blue ensign) in the canton, a white field, with a blue commonwealth star beneath the canton and three vertical blue bars in the fly. There is a red border around the whole flag. Towns and districts in Australia which subscribed twice their quota of funds to the Commonwealth Government's Seventh War Loan in 1918 were presented with the Honour Flag with three blue bars and a star.
A rivalry between Australian States to prove which of them was the most 'patriotic' in subscribing to the loan was encouraged. Ben Strange, principal artist at the Western Mail, designed a flyer which responded to a challenge from Tasmania to raise more money for the Seventh War Loan. Of the 42 flags presented to Western Australian communities, no known example of the Honour Flag is believed to have survived.
Related
World War One Battlefield Cross
Trench Art - Propeller Tip Photo Frames
Painting Lt Gen JJ Talbot Hobbs by Ernest Buckmaster
Medals Private John Horne
Medals Private David Stinton, Settler
Medals Pensioner Guard Private John Keefe
Medals of Pensioner Guard Private John McMahon
Martin O'Meara Victoria Cross Medal
HMS Louis Relic from Gallipoli
Location