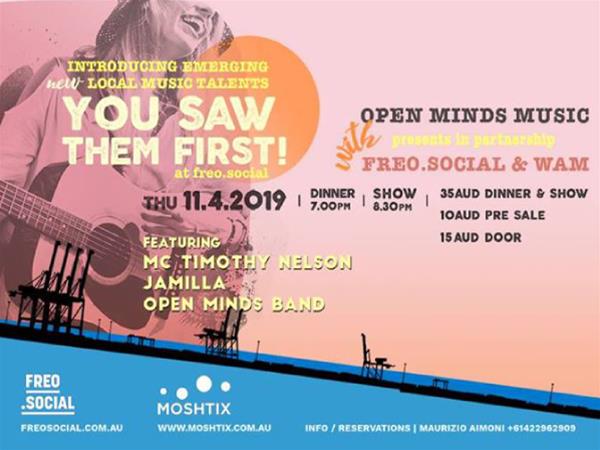 Open Minds Music
Open Minds Music is a unique live music platform designed to launch and promote emerging, raw talent onto the stage and into the music industry.
Dates:Apr 11
Time(s):6 pm
Venue:Freo Social Hall
Details
Venue Address:1 Holdsworth St, Fremantle WA 6160
Ticket Price FROM:$12.15
Ticket price TO:$34.36
Venue:Freo Social Hall
Audience:Adults
Description
Open Minds Music provides the perfect start-up support for young singers and songwriters to showcase their original music, backed by a highly experienced house band.
This highly curated launch party is set to showcase new and emerging local music talent in Perth's newest and exciting music venue - Freo.Social.
The night will featuring three emerging artists plus a local special guest artist - JAMILLA.
Also the night will be MC'ed by respected local musician TIMOTHY NELSON who will introduce the artists, engage the audience and keep the vibes flowing.
Plus you will be treated to the great service and delicious value for money food and drink options from Freo.Social which will help make your night memorable.
A night of music discovery where the local community can come together, collaborate, share ideas and have fun!
Venture down to Freo.Social on the 11th of April 2019 to witness WA's freshest, emerging talent - where you can always walk away and say "you saw them first at Freo.Social" !
-Applications are always open for singers and songwriters who want to bring their music to life-
https://www.openmindsmusic.com.au/artistpackage
@openmindsmusic_au
Fb: Open Minds Music Au
Location
Venue:Freo Social Hall
Address: Freo Social Hall, 1 Holdsworth St, Fremantle WA 6160,Fremantle Town,WA,6160
Phone:
Email:
Website:https://www.freo.social/