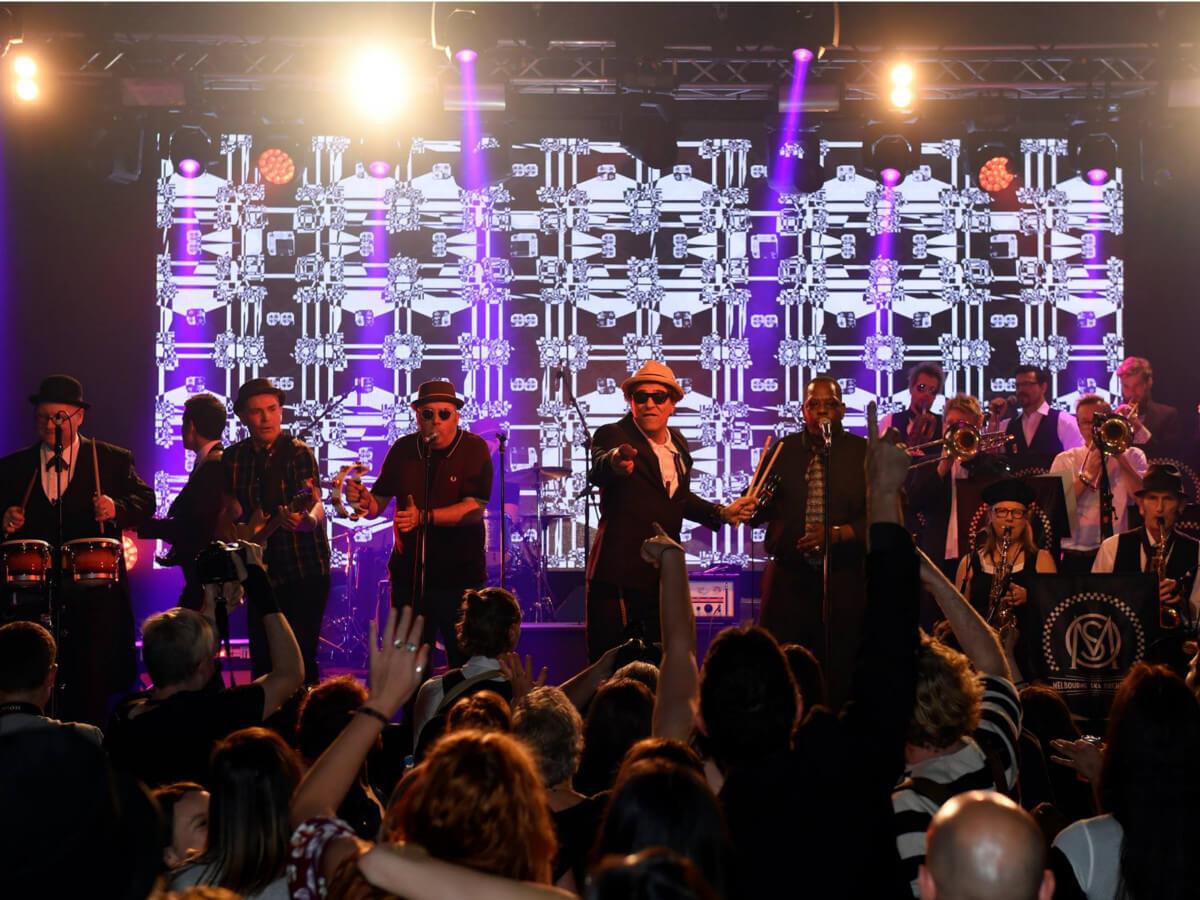 Melbourne Ska Orchestra (POSTPONED)
The ARIA award-winning Melbourne Ska Orchestra takes their massive show on the road!
Dates:Apr 17
Time(s):7.00pm
Venue:Freo.Social
Details
Hosted By:Freo.Social
Venue Address:Artillery Drill Hall on Parry St, Fremantle WA 6160
Ticket Price:$44.62
Venue:Freo.Social
Audience:Adults,Wheelchair Access
Description
The beloved Melbourne Ska Orchestra has today unveiled their new single Good Days Bad Days – a showstopper of a track lifted from their most recent album One Year Of Ska – the box set album that just saw them take out the 2019 ARIA Award for Best World Music Album. To celebrate, the epic 25 piece band have announced a huge national tour, which will see them hitting up metropolitan and regional cities across the country throughout the early months of 2020.
The group will be kicking things off at the Mullumbimby Civic Hall on February 28, then moving through Brisbane, Maroochydore, Newcastle, Sydney, Wollongong, Canberra, Fremantle, Pinjarra (WA), and wrapping up with a massive hometown show at Forum Melbourne on May 1.
Melbourne Ska Orchestra are a force to be reckoned with when it comes to the stage. Audiences will be blown away by up to 25 musicians performing at a time, and the joyous, energetic vibe of a Melbourne Ska Orchestra gig is one that must be seen to be believed. Multi-instrumentalist and band leader Nicky Bomba enthuses, "With so many band members, we're a bit like a soccer team! Our live shows are a community experience. It's imperative for us to make a solid unifying connection with our audience. We hold the live performance in high esteem, as it's an ancient ritual where humans come together celebrating life through the wonder of music. It's a bit of a spectacle to behold."
The album One Year Of Ska was an innovative undertaking for the seasoned group. They set themselves the mammoth task of recording one new song per week for an entire year – that's a lot of ska! The band took on the challenge firstly as a way of embracing the idea of creating content for their fans, and also to mimick the old-school Jamaican practice of releasing new songs on a weekly basis to encourage punters to come to their weekly dancehall gigs. It was an epic task for the Melbourne Ska Orchestra, to say the least, as Nicky Bomba reflects, "We had to move our studio from country Victoria to a studio in Collingwood to facilitate the whole process. It felt like a NASA mission, working around the clock to create, arrange, record, mix and master in time for each weekly launch, which would happen every Friday morning at 9am."
The new single Good Days Bad Days is just one of the tracks borne of this intense year of work. Bright, spunky and full of life, it's everything audiences have come to love about the band. The track reflects on exactly that – the good days and bad days that are all part and parcel of life – with geniuine happiness and wisdom, as Nicky says, "The Good Days Bad Days sentiment is universal and it covers all walks of life. The second verse is particularly close to home, as it relates to putting our own gigs on - it's always a risk, and things can turn on a dime. Life is full of the extremes of the pendulum swing. Finding the balance is the key, eh!"
Showcasing the wild intensity and fun that is Melbourne Ska Orchestra in a live setting, Nicky speaks on the video for the song, "Good Days Bad Days really kicks in with the crowd when we play it live. It's a universal theme that has almost become colloquial. I love how the film clip captures the raw energy of the live spectacle of the orchestra."
It's always nice to be recognised for hard work, and what better acknowledgement is there for a band in Australia than the coveted ARIA Award? Melbourne Ska Orchestra scooped up the well-deserved nod at this year's ARIAs for Best World Album, a well-respected and competitive category. It's a meaningful win, as Nicky explains, "What an honour to have again been presented with the World Music ARIA award. We love the fact that we are flagbearers for the international ska sound here in Australia, and hailing from Melbourne, the multicultural diversity is inspiring. This award is a perfect fit and we are looking forward to sharing our new One Year Of Ska songs with all of our fans."
Tickets to the Good Days Bad Days tour are on sale now
Good Days Bad Days is out now
Events
The Milk Carton Kids With Vera Sola
The Kite String Tangle - C()D3x Album Tour (POSTPONED)
The Human Highway Plays Neil Young (POSTPONED)
San Cisco 'Flaws' Tour (POSTPONED)
Kasey Chambers (POSTPONED)
Freo.Speakeasy (CANCELLED)
Don't Change - The Ultimate INXS Tour
Confidence Man 2020 Tour With Mickey Kojak & Close Counters (POSTPONED)
Billy Bragg - 'One Step Forward, Two Steps Back' Tour
Big Thief (USA) Plus Indigo Sparke (POSTPONED)
Augie March 'On The Quiet'
An Evening Of Music & Comedy With Creed Bratton From The Office
#1 Dads @ Freo.Social (POSTPONED)
Related
Busby Marou - The Great Divide Tour
Location
Venue:Freo.Social
Address: Freo.Social at Artillery Drill Hall, Parry St, Fremantle WA 6160,Fremantle,WA,6160
Phone: (08) 9335 9335
Email: [email protected]