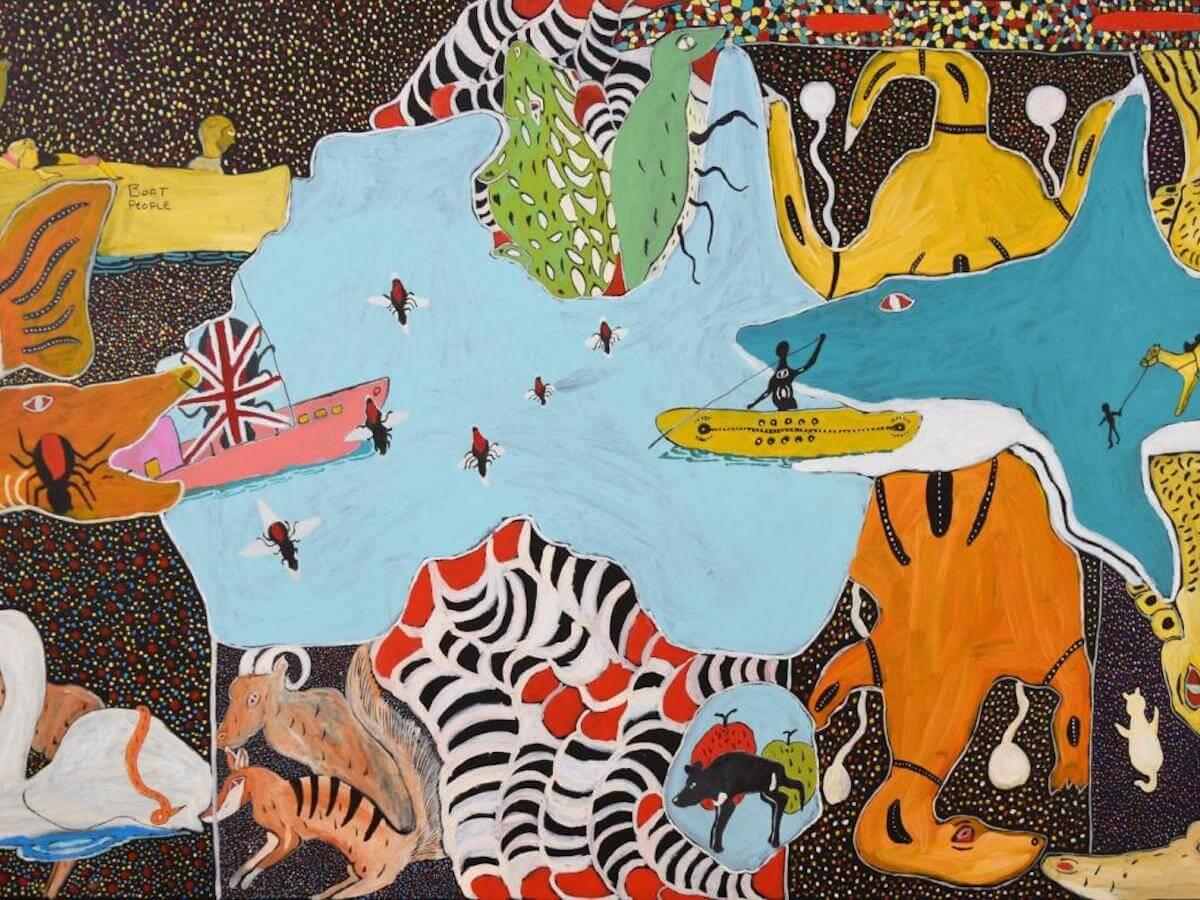 John Prince Siddon: All Mixed Up (CANCELLED)
John Prince Siddon draws on contemporary politics, social issues and personal experiences to present a kaleidoscopic vision of Australia.
Dates:Feb 5 - Mar 22
Time(s):Mon – Sun, 10am–5pm; Feb 5, 6.30-9pm
Venue:Fremantle Arts Centre
Festivals:Perth Festival
Details
Hosted By:Fremantle Arts Centre
Ticket Price:Free
Venue:Fremantle Arts Centre
Festivals:Perth Festival
Description
A Walmajarri man living and working from Fitzroy Crossing in the West Kimberley, he combines diverse influences drawn from television and the traditional Kimberley craft of boab nut carving, desert iconography and the epic characters of the Narrangkarni (Dreamtime) to create uncanny technicolour vignettes.
All Mixed Up is complimented by a selection of paintings made in the 1990s by Butcher Cherel Janangoo, a key elder of the Gooniyandi language group instrumental in the retention of men's law ceremony at Muludja Community. This vibrant pairing offers a glimpse of the rich variety of cultures clustered around Fitzroy Crossing's Mangkaja Art Centre. Curated by Emilia Galatis in collaboration with Lynley Nargoordah.
Events
Truckload Of Sky: The Lost Songs Of David Mccomb
Tim Rogers & Friends | Liquid Nights In Bohemia Heights
Sunday Music: Young Robin
Sunday Music: Kill Devil Hills
Sunday Music: Galloping Foxleys
Sunday Music: Cecilia Brandolini + Green Pools
Ocean Alley Australian Tour
Designfreo: Object, Space, Place
Community Arts Network: Noongar Lullabies Launch
A Forest Of Hooks And Nails
Related
Fremantle Arts Centre Courses
Location
Venue:Fremantle Arts Centre
Address: Fremantle Arts Centre, 1 Finnerty St,Fremantle,WA,6160
Phone: (08) 6488 2000
Email: [email protected]