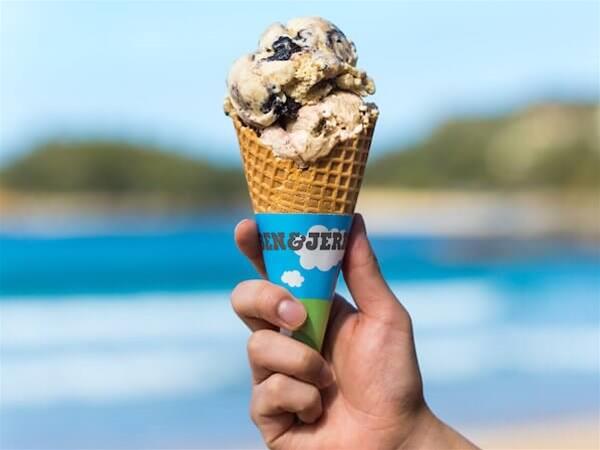 There are so many ways to enjoy Ben & Jerry's. We cover our bases with good old chocolate and award-winning Cookie Dough, but then go so much further, with flavours to satisfy every bowl out there
Open Days/times:Sun - Thur (12pm to (9.30pm), Fri - Sat (12pm to 10.30pm)
Details
Description
Our mission is to make the best possible ice cream in the nicest possible way, and this underlies all of Ben & Jerry's actions. Our ice cream is what sets us apart. We continue to search for ingredient suppliers who are aligned with our company's mission and core values. These are suppliers who, through their business practices or through their products, are expanding economic opportunities for the disadvantaged, leading the way to more sustainable environmental or agricultural practices, or serving the cause of peace and justice.
Ben & Jerry's ice cream is made of dairy cream and milk, so we care about where it comes from. Our Caring Dairy programme helps the dairy farmers we source from to move towards more sustainable farming practices. We use cage-free eggs and Fair Trade vanilla and cocoa, ensuring a fair price for farmers, benefitting their families, communities and the environment. We believe that no one should be exploited, so we help everyone involved with our ice cream to prosper - including the cows.
It also helps that our products are amazingly delicious! Our ice cream is rich and dense in flavour, and we are famous for the addition of chunks and swirls, creating flavours never before experienced. The fun, quirky names that we assign to our ice cream also set it apart from other brands, and creates a topic of discussion for our customers. We also offer hand packed Ben & Jerry's pints, sundaes, shakes, cakes and other euphoric desserts and sweet treats that are only available at Ben & Jerry's scoop shops.
As a Ben & Jerry's scoop shop franchisee you have exclusive access to our popular and creative flavours, which are not available to be scooped through any other channel. Each year we are releasing new exciting flavours and developing new menu items to surprise and delight our customers. Our customers know and understand that we have a range of exclusive flavours available only at our scoop shops, and this helps keep them coming back. You will benefit from the exclusivity of our brand and product offering, as this will help you attract and retain loyal customers who are excited about our brand.
Location
Address: Ben and Jerry's, 11/1-13 South Terrace, Fremantle WA 6160,Fremantle Town,WA,6160
Phone: (08) 9514 7284
Email: [email protected]