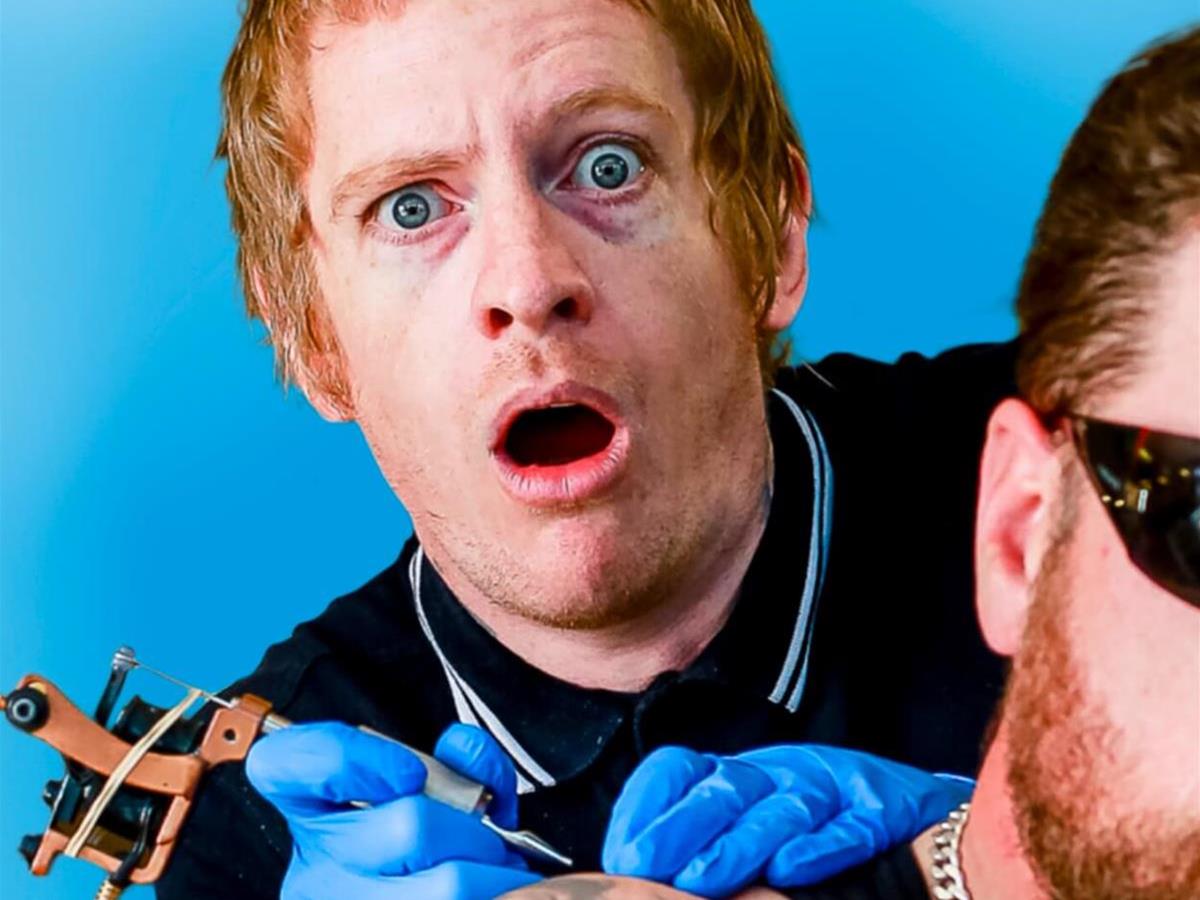 Jon Pinder: Tattoo Boy At The Balmoral Hotel
Comedian Jon Pinder brings audiences his misadventures from being a tattoo artist and just general rants on life itself
Dates:Feb 1
Time(s):6:00pm
Venue:Balmoral Hotel
Festivals:Fringe Festival
Details
Venue Address:901 Albany Highway, East Victoria Park, WA
Ticket Price:$20
Venue:Balmoral Hotel
Audience:Adults
Festivals:Fringe Festival
Description
Do you want to find out about the exciting and slightly less glamourous aspects of being a tattoo artist? From floral wreaths around third nipples to Nazi clowns juggling piglet heads, award winning UK expat Jon Pinder has seen just about every kind of tattoo in 15 years poking pictures into people. A high energy hour of tattoo tales, everyday observations on Aussie life and freewheeling banter; this show is guaranteed to leave a permanent mark.
Events
Yianni Agisilaou: The Simpsons Taught Me Everything I Know
Writing With An Enlarged Heart
Worship - The Gilded Edition
With Grace By Bronte Kellam-Pearson
Uncorked Comedy | Wine Tasting With A Comedian At The Rooftop
Umit Bali: Aussie At Last!
The Hilary Duff Film Re-Enactment Festival
The Flaming Galahs: Great Australian Songbook
The Alchemist's Guide To The Undercity
Sonny Yang's Incredibly Stupid Adventure Game
Sirqus Alfon – I Am Somebody
Shahnameh: Songs Of The Persian Book Of Kings
Shades Of Buble: A Three-Man Tribute To Michael Buble
Sessions At Fremantle Church
Sense & Spontaneity The Musical
Selfless Orchestra: Great Barrier
Scarlet Affaire: Late Night Lust
Sassafras: An Evening Of Gypsy Swing
Purple People Comedy & Circus
Playtime 3: More Than Twice Is A Habit
Peter Combe In Brush Your Hair With A Toothbrush!!
Once Upon A Fractured Fairytale
No Hero With Stuart Lightbody
Nina, Love Simone - Simone Craddock & Adrian Galante
Nick O'Connell - Those Who Can, Those Who Can't
Mr Snot bottom's Horrible Terrible Really Really Bad Bad Show
Michael Shafar - Getting Better
Michael Griffiths: By Request
Maisie's Massive Mistakes
Kiara With A K: That Jazz
Josh Glanc: Work In Progress
Jordan Anthony - This Is Me!
Jeff Green: Wombat Combat And Other Mistakes
Halal?.. Is It Meat You're Looking For?? | Umar Azad
Gender Blender Burlesque 2
Gavin Nicklette: Lounge Room Confessions
Funky Town - Hits Of The 70'S, 80'S & 90'S At The Corner Bar
Facundo Herrera: Thalidomide
Eurydice - Pleasure Garden
Elliot Bibby: Magic In A Jiffy
Drag Diva Spectacular Cabaret
Drag & Drag: Good Art, Bad Men
Dolly Diamond's Bl*Nkety Bl*Nks
Dirty Tattooed Circus Bastards: The Prison Years
Death In The Golden Triangle
Days Of Our Hives By Alanta Colley
Claire Sullivan: Toast Rat
Captain Spaceship: The Return Of Captain Spaceship
Bubble Show For Adults Only
Boys Taste Better With Nutella
Billy D'arcy - Anxiously Arrogant At The Comedy Hub
At Least There'll Be Food...
Abracadabra And Other Useless Magic Words
A Boy Named Cash: Volume II
2 Comedians Are Better Than 1
'Lucid Dreams' By Pierre Ulric
(Not) The Bachelor Live On Valentine's Day Hosted By Luke Bolland
Location