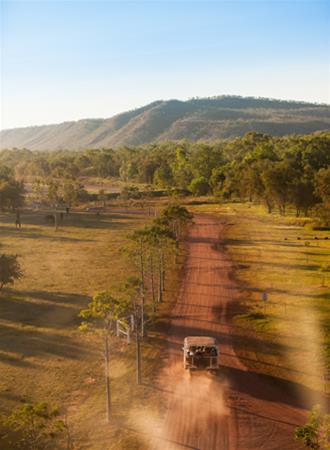 Located in the untamed Kimberley region of Western Australia, El Questro Wilderness Park is a unique Australian holiday destination that showcases one of the world's last unspoilt frontiers.
Details
Type:Hotel
Facilities:Bar,Pool,Restaurant,Room Spa,Tennis Courts
Description
El Questro Wilderness Park is one of the world's most unique holiday destinations, providing a truly Australian holiday experience.

A million acres in size, El Questro is located in Western Australia's untamed Kimberley, and extends for approximately 80 kilometres into the heart of the region, most of which has never been explored. It is one of the last true frontiers.

El Questro Wilderness Park offers unrivalled access to the far reaches of the Kimberley. Go barramundi fishing, set out on a horse trek, or explore remote areas by helicopter that only a lucky few have ever seen. Boating along the Chamberlain Gorge is also a must - a magnificent fresh waterhole bound by tropical vegetation and belittled by towering 200 foot escarpments.

Wild donkeys, goannas, sea eagles, brolgas, jabirus and brightly coloured parrots thrive in the Kimberley region. A day spent with a Ranger will introduce you to a wide variety of animals, birds and maybe even a saltwater crocodile!

At El Questro Wilderness Park, you can choose from three types of accommodation, each different in style and budget, including Emma Gorge Resort at El Questro with its tented cabins, the comfortable Station Bungalows at the heart of El Questro Wilderness Park and Riverside Camping, where you can opt for a central campsite close to amenities or one of the private sites just 10 minutes away. For those with no budget try the exclusive El Questro Homestead.
Location