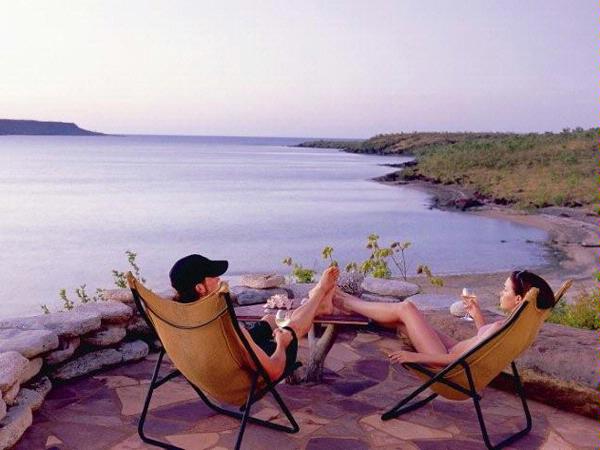 Faraway Bay, The Bush Camp is a truly unique retreat, nestled on a hilltop overlooking the Timor Sea, in the remote East Kimberley Region.
Details
Accessibility details:No
Capacity:12
Type:Chalet/Cottage,Retreats
Facilities:Pool,Bar,Functions,Restaurant
Description
On the north-west corner of the Australian continent, there is a place so remote, so far away from anywhere, it's called Faraway Bay.

Time appears to stand still. When it does move, it's measured in tides and sunsets.

Faraway Bay, The Bush Camp is a truly unique retreat, nestled on a rocky hilltop overlooking the Timor Sea, in the remote Kimberley Region.

It's an intimate escape that feels like the edge of forever.

Here, a few days can feel like a week, and a week can change the way you feel forever.

On offer is remarkable natural beauty, isolation and history – all set in a remote slice of outback Australia.

Ease into nature's rhythm. Relax. Explore. Relax some more

A Rare Kimberley Encounter

Cruise to the spectacular twin falls on the King George River and feel dwarfed by red rock cliffs that rise more than 50 metres into the air. When the falls are flowing it's time for an invigorating fresh waterfall shower as the Tender boat edges up to the rock face. Go fishing in tidal creeks and catch an elusive barramundi.

There's always time to explore - learn about bush tucker; go bird watching, beach combing or swimming in pristine water holes; and discover ancient rock art perhaps 15-20,000 years old.

Evening entertainment begins as the last rays dance across the rocks and water in a kaleidoscope of colour. Stargaze until dawn or drift off to the soothing sounds of waves lapping the shore.

Fresh Local Fare

Guests wake up each morning to birdsong and enjoy breakfast in the open air 'Eagle Lodge', perfect for lounging, dining and daydreaming.

Eagle Lodge is surely Australia's most unusual kitchen and spectacular dining room. Here, you can feast on freshly caught wild barramundi, mangrove jacks, and reef fish, home-baked bread and exotic, sun-ripened fruit and vegetables picked and flown in from Kununurra's Ord River - all enjoyed with fine Western Australian wine or beer.

You also have access to tea, coffee, food and wine at any time. Snack on one of the chefs freshly baked biscuits, fresh fruit or cheese and biscuits, and enjoy the chefs picnics on selected excursions.

A Private Escape

While the wildlife is prolific, the neighbours are not. With a maximum of twelve guests at any time privacy is ensured. Not surprisingly, Faraway Bay is popular with couples and honeymooners.

Simple, Comfortable Accommodation

Although simple Faraway Bay provides unrivalled luxury for a bush camp, with eight spacious cabins scattered amongst the natural bush setting, offering privacy and 180-degree views of the spectacular cliff-lined bay.
Facilities

* Our plunge pool is refreshed constantly by crystal clear spring-fed water, and you'll be equally revived by its 360 degree views of the spectacular coastline and ranges.
* Tee-off at our cliff top one-hole golf course.
* Our laundry is available for your use.

Awards

Faraway Bay has been recognised nationally as one of Australia's unique destinations winning the following awards:


• Winner 2008, 2007 & 2004 Australian Tourism Awards - Unique Accommodation
• Silver 2009, Winner 2008, 2007, 2003 & 2001 Western Australian Tourism Awards - Unique Accommodation
• Winner 2005 Western Australian Tourism Awards - Hosted Accommodation
• Winner 2000 Jaguar Award announced by Australian Gourmet Traveller for Innovation in Travel

Getting There

Visitors enjoy a scenic flight by light aircraft 280km north west from Kununurra, over a timeliness and untouched landscape, then ride by 4WD to The Bush Camp. The Faraway Bay private airstrip is 4 km from the camp, with parking bay and tie down for light aircraft. Helicopters can land on the heli-pad at The Bush Camp with permission only.
For more information about Faraway Bay, The Bush Camp visit www.farawaybay.com.au or email [email protected]

Location