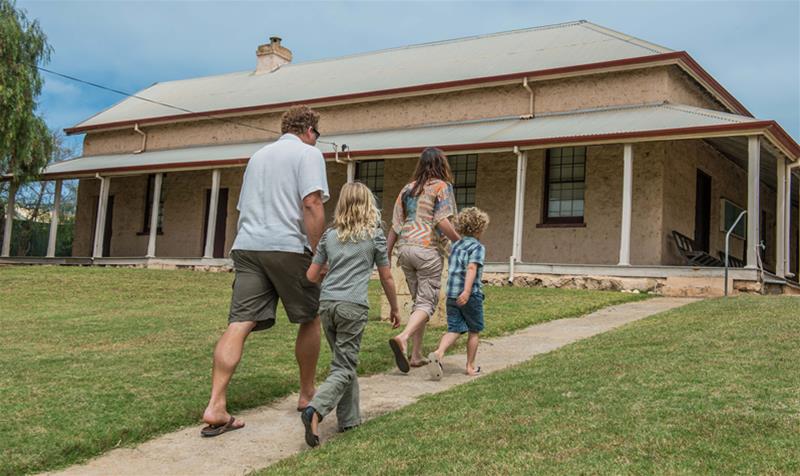 Irwin Historical Museum
The Irwin District Museum is housed in the former Dongara Police Station, Courthouse and Gaol. The building also served as a ticket of leave hiring depot, and police quarters. It's open Mon- Sat, 10am
Museums:Local History
Historical Sites:Prisons
Details
Museums:Local History
Historical Sites:Prisons
Open Days:Monday,Tuesday,Wednesday,Thursday,Friday,Saturday
Description
The building was built at a contract price of £1200 by expiree Joseph Walton in 1870-71 using ticket-of-leave labour.
By 1874 the building had a lean-to addition added to the north side which served as a post and telegraph office. The native cell to the west and some of the rear yard walls were demolished in the mid 1950's.
The building served as a police station, courthouse and quarters until 1983. In early 1984 the building was occupied by the Tourist Centre and between 1984 and 1987 extensive restorations were funded and carried out by the Dongara Old Police Station Restoration Committee with additional funding through a grant form the WA Heritage Committee.
In 2000, the Society built additional museum display space on the site of the former horse stables at the rear of the building jointly funded by LotteryWest Small Museums Grant and the Society.
Currently the building is operated by the Irwin District Historical Society as a research office with historic displays, the Dongara Magistrates Court is held each month in the former Day Room.
Location
Address: 5 Waldeck Street,Dongara,WA,6525
Phone: 08 9927 1323
Email: [email protected]