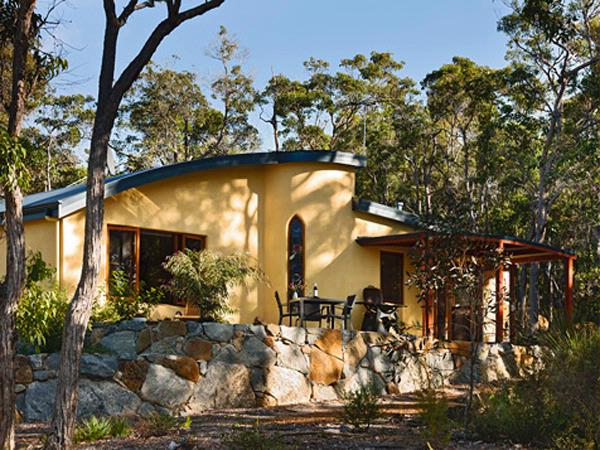 Aiyana means 'eternal blossoming'. And like blossoms, our guests come back year after year, for the beauty, elegance and comfort that we offer. Our intimate, romantic retreat nestles alongside the Bibbulmun Track, surrounded by beautiful forest, just a short walk from Wilson Inlet.
Details
Description
This charming Retreat provides a Luxurious Spa Chalet, a premium Two Bedrooms Spa Retreat and a Deluxe one bedroom Studio all fully self contained. They have been designed, built and decorated by some of Denmark's finest artists and craftsmen, using local timber, stained glass windows, and handmade tiles and mosaics.
Situated in the heart of Denmark's unique natural environment, 200 meters from Wilson Inlet, surrounded by natural bush reserve and right next to the Bibbulmun Walking Track.
Aiyana Wellness, is another new addition to your well being experience while staying at Aiyana Retreat. There are a variety of massages and healing sessions to choose from.
The Interior
"Our intention was to build a sanctuary were the design and furnishings of the building mirrored the natural beauty of the surrounding natural environment– a place where people could come and relax inside and outside."
These enchanting accommodations are the last word in elegance, beauty and sheer comfort.
Their design includes clean elegant lines, and warm earth tones.
Their construction features softly rendered interior walls, polished hardwood artesian oak floors, bathrooms and kitchens constructed out of local Jarrah, and with furniture custom made by local tradesmen.
Beds, linen and towels are all of the finest quality.
The Exterior
The building is constructed out of 25 kg re-enforced double mud bricks, solid red cedar, lots of windows to reflect the outside beauty, exposed Jarrah rafters and beams, solid Tasmanian oak hardwood timber floor, polished to perfection. Numerous windows (including stained glass windows) bringing in light and color.
The walls are softly rendered in warm tones. Clean elegant lines together with gentle curves and angles pre-dominate throughout.
The outside is paved all around maintaining the round curves of the building themselves. The solar passive design of each dwelling keeps them comfortably cool in summer, and cozy and warm in winter.
Related
Location