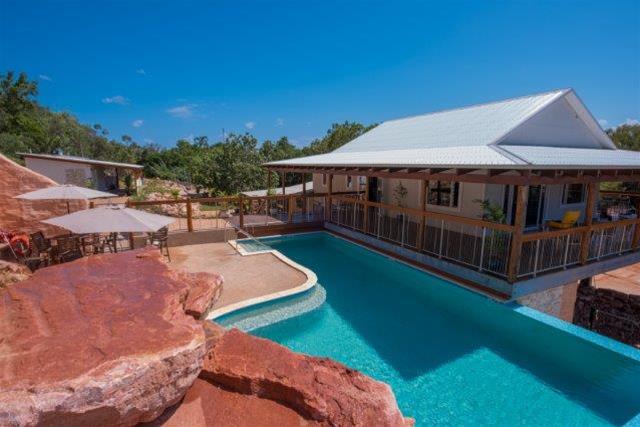 Cygnet Bay Pearl Farm Accommodation
An adventure on the Kimberley Coast! Safari tent, camping and cabin accommodation complemented by pearl farm and boat tours, restaurant and swimming pool. 200km north of Broome at Cygnet Bay.
Details
Type:Farm & Station Stays,Caravan Park,Chalet/Cottage
Facilities:Pool,Restaurant
Description
Accommodation
Your Kimberley Coast adventure awaits just 200km north of Broome on the Dampier Peninsula. Safari tent, camping and rustic cabin style accommodation is complemented by our licensed restaurant and swimming pool, as well as our award winning pearl farm and boat tours.
Just a short drive from Cygnet Bay, opportunities abound to discover the spectacular coastline, including the world famous Western Beach at Cape Leveque, and to discover local indigenous culture through one of the spearfishing or mudcrabbing tours on offer.
Sleep under a Kimberley sky
Eight en suite safari tents provide comfortable accommodation for couples or small families, with a choice between our Bayview tents with a view across the mangroves to the waters of Cygnet Bay, or our Rainforest tents set amongst the shade of our remnant rainforest. Continental breakfast at our restaurant is included in the safari tent rates, and guests also have access to a fully equipped shared camp kitchen and outside BBQ area.
Rustic cabin accommodation with outhouse style bathrooms is also available in three renovated pearlers cottages. Suitable for families and groups of up to 10 people, these cabins provide the comfort of air-conditioned bedrooms and self-contained living areas.
Private campsites with power and water offer an ideal outback stay for those travellers with swags, tents, off-road campers and 4WD caravans.
Located less than 1km from our farm village and reception area, our accommodation is in a tranquil location close to beaches and bushwalks, and with easy access to our restaurant and swimming pool, pearl showroom and tours.
To book your accommodation, contact our reservations team on (08) 9192 4283, email [email protected], or book online!
Restaurant and swimming pool…
Shell, our licensed restaurant offers delectable breakfast, lunch and dinner menus alongside our new swimming pool. Taste an unusual delicacy - pearl meat fresh from the farm!
Award winning pearl farm and scenic boat tours...
The world's largest tropical tides are the beating heart behind Cygnet Bay Pearl Farm, and set the scene for a trip to remember on the spectacular Kimberley Coast. With over 2,000 islands on our doorstep and unspoiled turquoise waters, our pioneering family-owned farm is the perfect place to experience this breathtaking part of the world.
Find out more about the fascinating process of culturing pearls on our pearl tours – at the only working pearl farm open to the public!
Join our Giant Tides Sea Safaris for a thrilling boat ride through the islands to witness the spectacle of the tides. See standing waves and whirlpools as the tides change on our Giant Tides Tour, watch a waterfall emerge from the sea on our Waterfall Reef tour, or discover the intertidal zones on our slack water experience, the Island Explorer tour.
Share our knowledge of the spectacular Kimberley scenery and coastline on an extended cruise on our catamaran Escapade – suitable for up to four people you can cruise the Kimberley as if you were on your own private charter. For a one adventure, our new Kimberley Adventure Cruise is a must-do!
Some of the finest pearls in the world...
Pearl jewellery by Cygnet Bay combines naturally beautiful pearls from our farms with quality design and craftsmanship to create a range of exquisite pieces to suit your personal style. Our collections celebrate the simplicity and elegance of classic pearl jewellery, alongside contemporary designs which reflect the sophistication and individuality of modern jewellery.
Getting here...
Cygnet Bay is easily accessible from Broome by road or air. For a self drive break, hire a 4WD to explore the Dampier Peninsula. Cygnet Bay Pearl Farm is on the Cape Leveque Road just 15km from Kooljaman at Cape Leveque. The first 90km of the Cape Leveque Road is unsealed, and the remainder of the road is sealed.
Cygnet Bay Pearl Farm also has its own airstrip and welcome arrivals by private aircraft or charter.
Transfers are available via 4WD and air, ask our staff for more details!
4WD and scenic flight day trips from Broome are also available – explore the Dampier Peninsula or fly over the coastline including the world famous Horizontal Waterfalls before your arrival at Cygnet Bay.
Location
Address: Cape Leveque Road, Dampier Peninsula,Dampier Peninsula,WA,6725
Phone: 08 9192 4283
Email: [email protected]