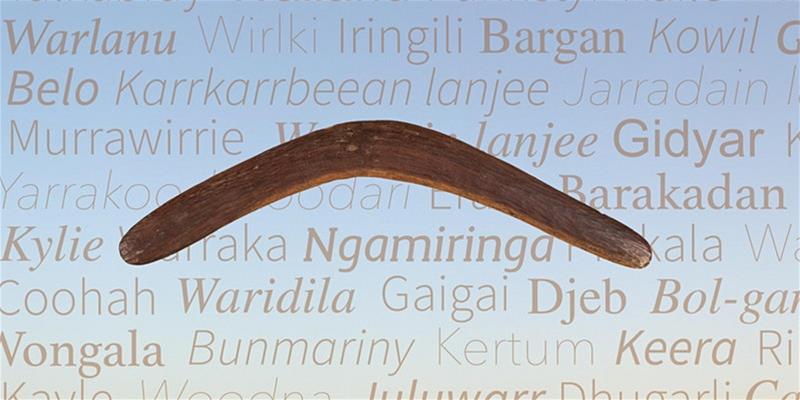 Friday Talk: Designing an Exhibition with Natalie Hewlett (CANCELLED)
Join Collections Manager Natalie Hewlett as she shares design insights into the current exhibition Boomerang - A National Symbol
Dates:Apr 3
Time(s):1:00pm - 2:00pm
Venue:Lawrence Wilson Art Gallery, UWA
Details
Hosted By:Lawrence Wilson Art Gallery
Venue Address:35 Stirling Hwy, Crawley WA 6009
Ticket Price:Free
Venue:Lawrence Wilson Art Gallery, UWA
Audience:Adults,Wheelchair Access
Description
Traditional displays of boomerangs as with that in the Pitt Rivers Museum in Oxford in the UK have usually arrayed the boomerangs to accentuate their numbers and form.
Join Natalie Hewlett, Collections Manager at the Berndt Museum, to hear about design and display processes undertaken for the exhibition Boomerang – A National Symbol.
Boomerang: A National Symbol
8 February - 27 June 2020
Australia as a nation is recognised around the world by symbols of Aboriginal culture.
In this exhibition, the Berndt Museum explores the idea of the boomerang – beyond a symbol of 'Australia' – to highlight its many uses and meanings. The exhibition asks audiences: 'How much do you know about boomerangs?' Presented by the Berndt Museum of Anthropology.
Image design by Clare MacFarlane. Object: Norseman, Western Australia. Carved wood. Berndt Museum of Anthropology Collection [1982/0149].
Events
Verbal Description + Tactile Tour: for visitors with vision impairment
Unladylike Acts: Recent Acquisitions From The Cruthers (POSTPONED)
LWAG Signs: Auslan-interpreted Tour
Friends of LWAG: Campus Art Tour #2
Friends of LWAG Lecture Series: Australian Landscape Then & Now (CANCELLED)
Exhibition: Boomerang - A National Symbol (CANCELLED)
Drew Pettifer's A Sorrowful Act: The Wreck Of The Zeewijk
Art Upmarket | Perth's Best Dedicated Art Market
Art Exhibition: The Long Kiss Goodbye (CANCELLED)
Art and Medicine: Workshop
Related
UWA Institute Of Advanced Studies
UWA Conservatorium of Music
University Club Of Western Australia
Lawrence Wilson Art Gallery Shop
Lawrence Wilson Art Gallery
EDCC Earth Science Museum
Callaway Music Auditorium
Location