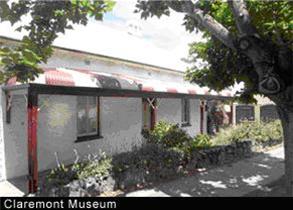 Claremont Freshwater Bay Museum (Temporarily Closed)
The collection holds more than 9000 items, including artefacts, photographs, oral history tapes and documents. Categories include business, domestic, fashion, education, convict history and clothing.
Details
Museums:Local History
Open Days:By Appointment Only
Description
Claremont Museum's main exhibitions are housed in a preserved nineteenth century schoolhouse. The schoolroom provides a glimpse into the colonial education system, c1862. Behind the teacher's room where we present changing exhibitions, the washhouse contains the original copper, a mangle and other traditional domestic equipment. Text panels throughout the museum provide insight into the settlement of the region and traditional practices of past eras.

A scale model displays Freshwater Bay in 1862. A display of early Claremont shops includes the barber, cobbler, draper and a 1940s corner store. Special exhibitions are changed periodically and address a variety of topics in history, science and the arts.
Related
Location
Address: 66 Victoria Avenue,Claremont,WA,6010
Phone: (08) 9340 6983
Email: [email protected]