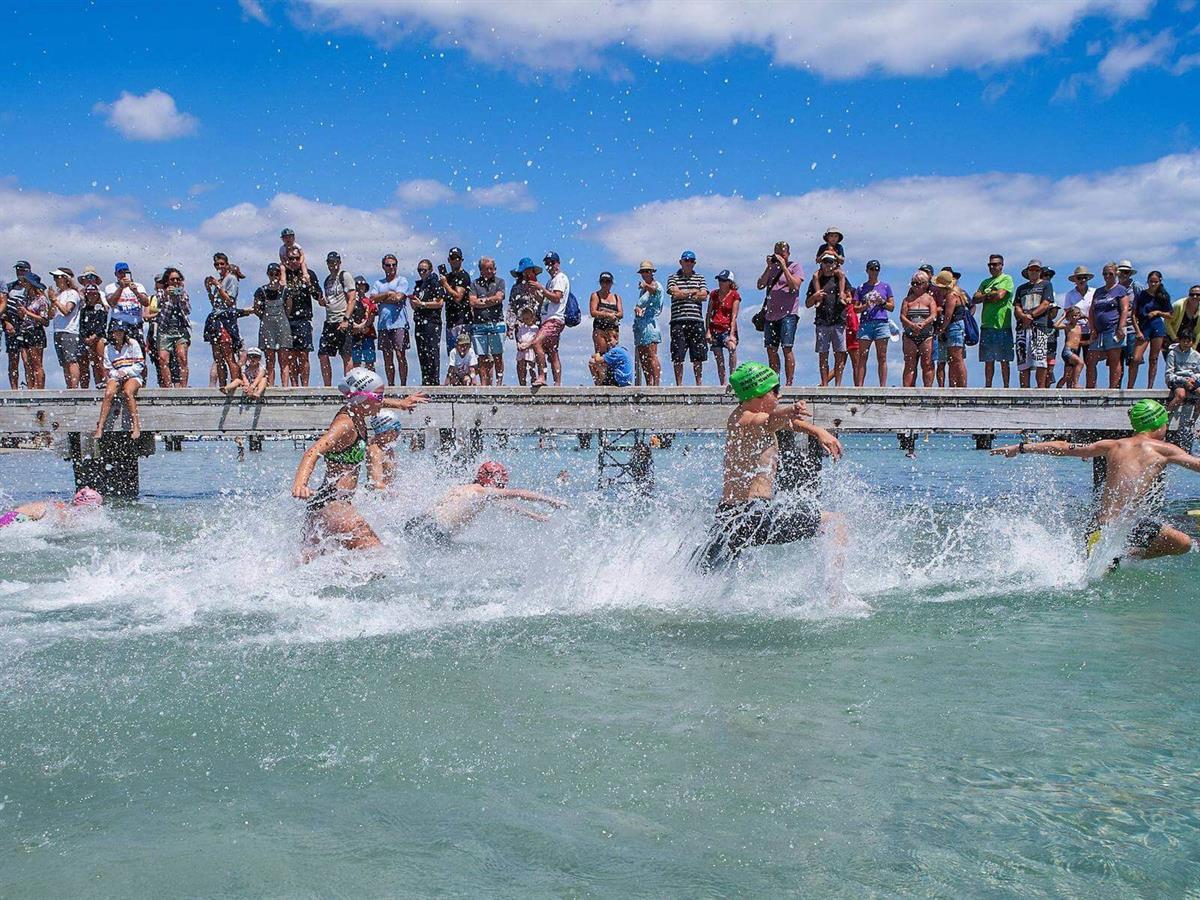 Busselton Jetty Swim 2021
The premier ocean swim around the iconic Busselton Jetty, in the south west of WA. Since 1996, the Busselton Jetty Swim has grown from a local event to an internationally recognized event.
Dates:Feb 13-14
Venue:Busselton Jetty and Foreshore
Details
Hosted By:Busselton Jetty Swim
Venue Address:Busselton Jetty and Busselton Foreshore, 1 Foreshore Parade, Busselton WA 6280
Venue:Busselton Jetty and Foreshore
Description
The SunSmart Busselton Jetty Swim 2021 event will be the 26th year and they are planning to celebrate over 2 days with entertainment, activities and family-friendly fun, with the swim taking place on the morning of Sunday 14th February 2021.
Solo and Teams: The course is a swim of 3.6 km around the Busselton Jetty, solo swimmers and relay teams of two and four are welcome. The swim starts on the eastern side of the Jetty, heading out and around the end, and back to shore on the western side.
One Mile - Swim to Shore: There wouldn't be many swims anywhere that you could start at 1 mile out to sea to swim back to the beach, that's jumping in at the deep end! Swimmers will enter the water at the end of the Busselton Jetty on the western side and swim to shore, a distance of 1.6km or 1 Mile.
SunSmart Busselton Jetty Kids Swim. Junior swimmers can participate in the 222 metre Kids Swim for 8 to 12 year olds around the outside of the Swimming Jetty. This will be held at 11:30 on Sunday 14 February 2021 (after the main swim).
Be a part of the atmosphere and enter the best jetty swim in the world.
Location
Venue:Busselton Jetty and Foreshore
Address: Busselton Jetty and Busselton Foreshore, 1 Foreshore Parade,Busselton,WA,6280
Phone: 0405 472 602
Email: [email protected]