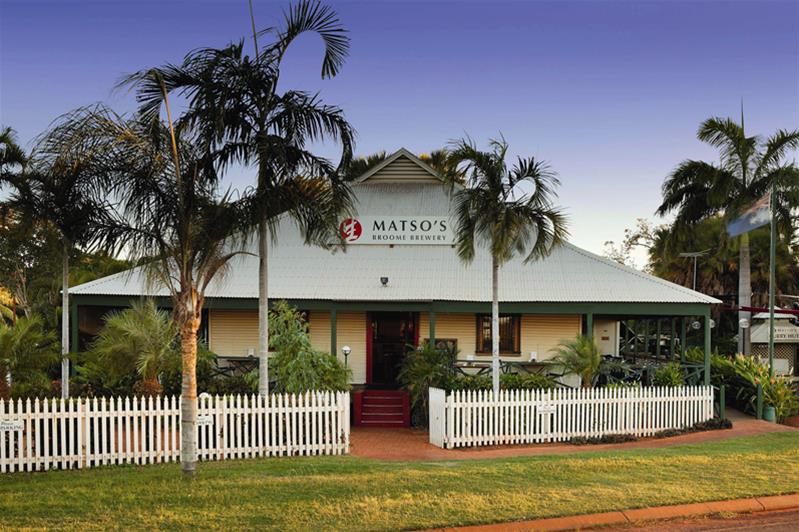 Kimberley Accommodation
You will find our 4 Kimberley Accommodation properties located throughout the immense and stunning landscapes of the Kimberley region of WA. Providing the best comfort and prices for all travellers.
Details
Type:Hotel
Facilities:Restaurant
Description
The Kimberley is a region brimming with majestic gorges, rugged ranges and pristine beaches. But while the landscape is raw and untamed, the accommodation is warm and welcoming with state-of-the-art facilities and often, spectacular views of the natural surrounds.
Kimberley Accommodation manages four properties and an award-winning brewery.
www.matsos.com.au
Whether you're looking to host a function or enjoy a holiday, you can be assured of comfort and quality at one of these venues.
Moonlight Bay Suites, is in the heart of Broome, just a short walk from Chinatown and adjacent to Matso's Broome Brewery. It features luxurious, self-contained apartments with uninterrupted views across Roebuck Bay. A huge swimming pool and landscaped gardens make it ideal for cocktail parties, sit-down dinners and champagne breakfasts.
www.moonlightbaysuites.com.au
Nearby, Bayside Holiday Apartments offers great value, with self-contained apartments in tranquil gardens, opposite the glorious Roebuck Bay.
www.baysideholidayapartments.com.au
Further north, Hotel Kununurra offers personalised, Kimberley-style hospitality. Its Zebra Rock Bar & Restaurant is great for laidback functions and the hotel makes an ideal base when visiting nearby attractions, such as the Bungle Bungles and Lake Argyle.
www.hotelkununurra.com.au
Kimberley Hotel, meanwhile, offers four-star accommodation in Halls Creek. The venue has a colonial style Sports Lounge, Saloon Bar, Cocktail Bar and A La Carte restaurant, all of which can host small to medium-sized events.
www.kimberleyhotel.com.au
Find us on Facebook
www.facebook.com/Matsosbeer
Related
Location