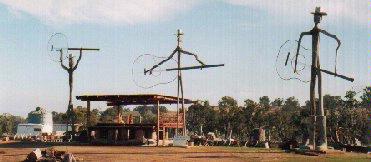 Harvey Dickson's Country Music Centre
Country music fans will be in heaven here! See memorabilia of days gone by and browse in the large record room, devoted to Johnny Cash and Elvis Presley.
Museums:Local History,Other
Details
Museums:Local History,Other
Description
Naturally Elvis features largely in the memorabilia collection.
See giant tree sculptures, sand sculptures and take in the country atmosphere.
Visit "Harvey's Shed" and see an amazing visual history of rural Australia.
Location