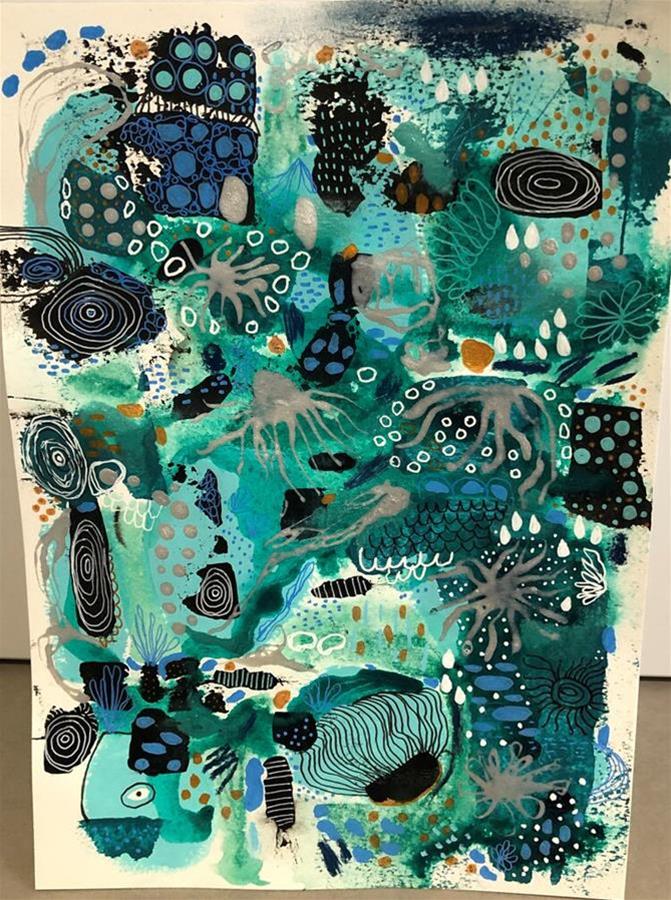 Tracey Bower
Tracey Bower is an intuitive mixed media artist who creates vibrant, happy abstract paintings that take your eye on a journey across the canvas and paper!
Open Days/times:Open 11 - 26 Sep 2021 from 10AM - 4PM (CLOSED: 14 & 21 Sep)
Represented Artists:Tracey Bower
Galleries:Painting,Mixed Media
Details
Galleries:Painting,Mixed Media
Open Days:Monday,Tuesday,Wednesday,Thursday,Friday,Saturday,Sunday
Description
Having been artistic and creative my whole life I began to dedicate time daily to the practice of art journaling 7 years ago, during that time I would create with every different method available which has helped me evolve in my work and create marks that are featured in my journals and paintings. I feature fine pen work across most of my paintings.
When I begin a new piece of work everything comes from within me, the selection of acrylic colours that I feel drawn to use at the time very much dictates the outcome of the painting. The fun stage is the bottoms layers where I am creating with free abandon, then features will start to appeal, and the features I form an attachment to I choose to focus on. The work builds from here as I begin to paint in plants, blooms or defined shapes to bring the piece into its final stages where inks will usually be called upon to finish off finer details and highlight parts of the painting.
My current work is leading me to explore some calm within the canvas. In the past some have been busy with detail and colour, drawing the eye around the whole canvas. As my adventure as an artist evolves, so too have my recent pieces of work where I have been looking for the calm to give the paintings some feature areas, this is bringing a bit more intention into my work rather than just using intuition.
I source inspiration from many areas in life, with the most notable being nature. The birds outside in the garden, the bees buzzing around the peppermint trees or the roses blossoming with bright colours. Once the seed takes root in my mind, I get an overwhelming desire to get to work and create. Transferring that seed from a mental to a physical, whether it be on paper, canvas or in an art journal.
The most important part of each creation for me is that fine detail component. I just must add something fine to each piece, even the bolder pieces will have some form of fine detail. The finer I can make the detail the more connected I feel with the art.
When I paint, I take a joyous journey between the medium, paper/canvas and myself, we are immersed into a whole different space and connected deep within bringing out a whole inner world that is connected to what I have seen, felt or been influenced by in my daily life. It is such an exciting process to be caught up in and a wonderful world to be a part of. I promote art journaling to all who show interest as its such an inspiring and healing process, one which everyone who explores it gets total benefit from.
Related
John Streater Fine Furniture
Location
Address: 5 Hay Shed Road,,Bovell,WA,Bovell
Phone: 0427 449 179
Email: [email protected]