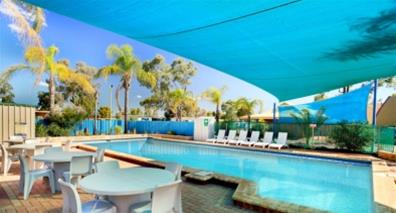 Discovery Holiday Parks Boulder
Discovery Holiday Parks, Boulder, is a golden spot in WA's goldfields.
Details
Description
The best of the outback, Boulder is the ideal spot to begin your nature adventure and explore WA's rugged inland country. Fly daily with QANTAS or Skywest, or enjoy the sights along the eight hour drive from Perth, along the Great Eastern Highway.
Discovery Holiday Parks, Boulder, has pet-friendly accommodation conveniently located at the southern entrance of the town. Whether you want to camp, or bring your caravan, everything you'll need is right here at our en-suite equipped caravan park. Or if you prefer, choose a comfortable self-contained 4 star villa or chalet for your family. If you want to stay in the loop, internet access is available.
You'll be awestruck by the sheer size of the Super Pit, Australia's biggest open pit gold mine. Little and big kids won't forget standing on the Super Pit lookout, taking in the enormous 3.5 km long, 1.5 km wide, 400 metre deep pit.
Whatever you want to see or experience in Kalgoorlie-Boulder, our team can make it happen. It's our pleasure to arrange your day tours, using the best local knowledge available. There's plenty to choose from including scenic flights, Aboriginal culture, the Super Pit Australia's biggest open pit gold mine and 4WD Goldfields tours.
Location
Address: Lane Street,Kalgoorlie-Boulder,WA,6432
Phone: (08) 9093 1266
Email: [email protected]