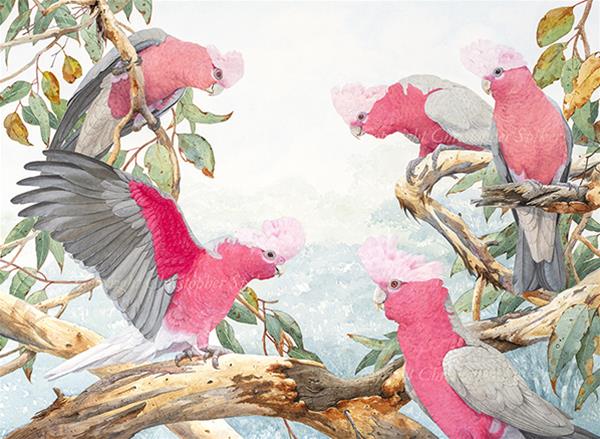 Unique Fine Art Australian Native Bird Portraits- watercolour paintings featuring exquisite details of mostly Western Australian birdlife and stunning flora. Framed Originals & Limited Edition Prints.
Open Days/times:Visit Boranup Gallery for our MRROS September 12-26 2020 event. See MRROS Website for details
Represented Artists:Chris Spiker
Galleries:Drawing,Painting,Artist Studio,Furniture
Details
Wheelchair Access:Available
Galleries:Drawing,Painting,Artist Studio,Furniture
Facilities:Wheelchair Access
Open Days:Monday,Thursday,Friday,Saturday,Sunday
Description
MRROS 2020 12 -26 September is at BORANUP GALLERY
7981 Caves Rd, Forest Grove WA 6286
We had to relocate for personal events and Covid 19 this year and we apologise for any inconvenience. Outside those dates please contact us as per details on this site.
Bird watching from a young age in central Victoria; having a natural inclination to paint in watercolours; mixed with working as a design draftsman for many years, led to Chris becoming a fine watercolour artist of birds and landscapes. Early training to use a super fine Crow-Quill ink pen nib resuled in possessing the dexterity to identify and draw details in nature and then complete the task by painting both lightly and boldly while using fine kolinsky brushes. Colours are painted in layers which helps to create rich and authentic colours.Just hold a gum leaf and observe the many colours in just that one leaf.
Each painting is designed to achieve: an attractive picture; technically reliable portrayal of the birds and relaterd flora; high quality craftsmanship; and most importantly to inspire an appreciation of, and ultimately the conservation of,Western Australian birds.
Along with producing fine art originals, we produce a complimenting range of Limited Edition and Open Prints and greeting cards.
Related
Location