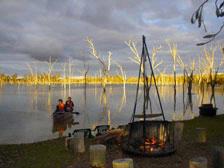 A 350 acre property located in the Australian outback. Surrounded by pristine bushland, freshwater springs and a lake, we are the perfect location for a farmstay and farm tour. All ages welcome.
Details
Capacity:4 bed
Type:Bed & Breakfast,Farm & Station Stays,Retreats
Facilities:Pets Allowed
Description
Boshack Outback is a 350 acre property located 90 minutes from Perth, Western Australia. We're surrounded by pristine bushland, freshwater springs and a lake. A tranquil place to enjoy a farmstay and farm tour or just relax by the lake and soak in the atmosphere in the Australian outback.
We have the Outback Adventure Farmstay and a Bed and Breakfast Farmstay. A unique place for family weekends away, school camps and for the overseas traveller. This is truly the authentic Australian outback experience that is different from other farmstays.
Embark on an Outback Adventure Tour and Free Range Animal Safari to take the experience to a next level. Through the Outback Adventure Tour, you will experience outdoor adventure education and a farm tour combined.
Boshack Outback isn't just accommodation; it is a unique farmstay experience. If you would like to get back to the basics of life in a beautiful setting, which is solar powered, fresh gardens of organic food and simple accommodation, with little impact to the environment, then you're are up for a unique adventure and farmstay at Boshack Outback.
Also caters for school field trips and staff retreats.
Location