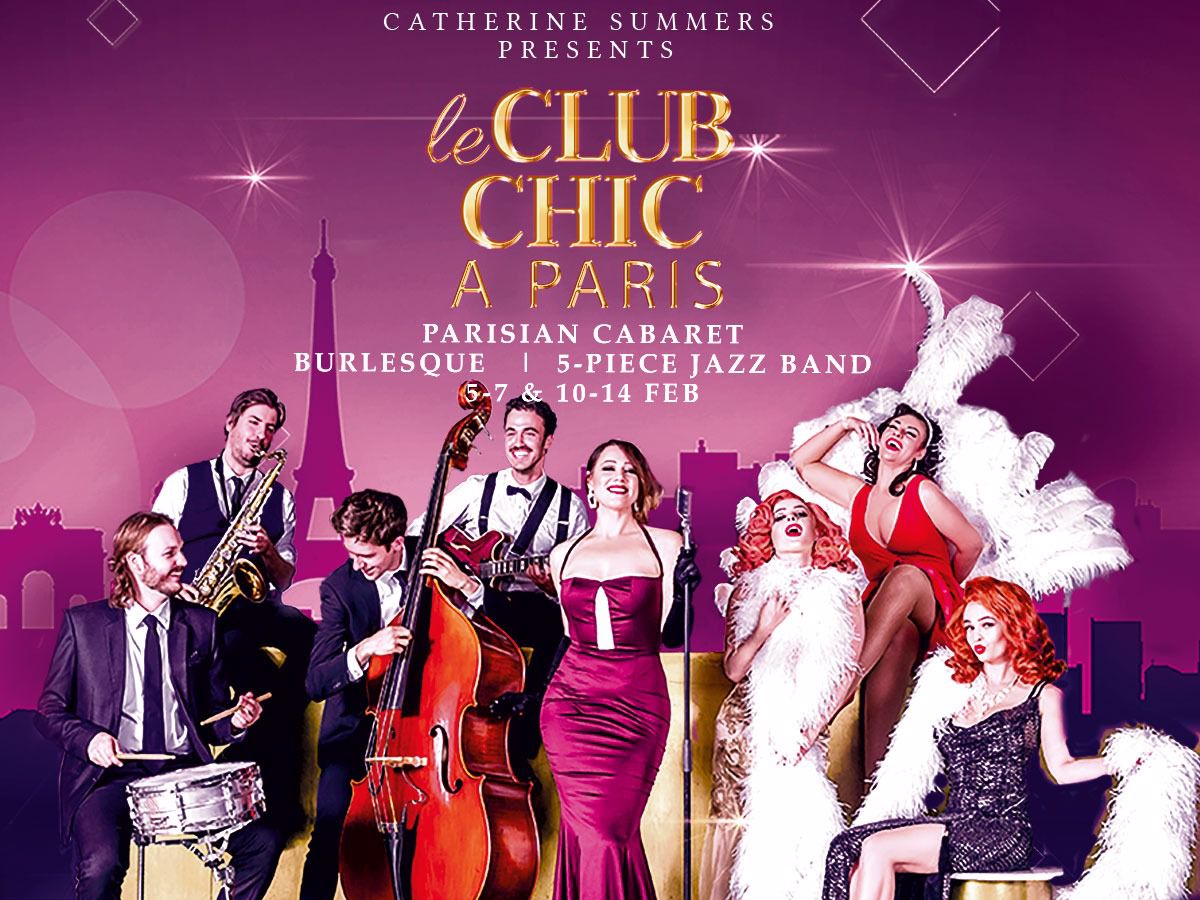 Catherine Summers in 'Le Club Chic A Paris' (5-Piece Jazz Band & Burlesque)
Get lost in the magic of Paris this Fringe Festival. Catherine Summers, presents Le Club Chic A Paris, a 5-Piece Jazz band, burlesque extravaganza celebrating delicious cabaret in Paris.
Dates:Feb 9, 13 & 14
Time(s):7.30pm
Venue:The Old Pickle Factory
Details
Ticket Price:From $42.50
Venue:The Old Pickle Factory
Festivals:Fringe Festival
Description
Craving a bit of international reminiscing? Le Club Chic A Paris is the perfect night to get lost in the magic of Paris and all things Fringe Festival. This sparkling show features delicious burlesque with Catherine Summers and 5-Piece Jazz band performing a host of French song classics all weaved around cheeky anecdotes and historical narrative to make for an evening both engaging and entertaining. Hugely popular homegrown Perth vocalist Catherine Summers is bringing to Fringe World 20201 a lively Parisian jazz club 'Le Club Chic A Paris', world-class music, high-end sophisticated burlesque weaved around the story of jazz cabaret in France. Catherine is partnering with Tease Entertainment and The Raffles Hotel to bring this Moulin Rouge live-music Parisian extravaganza! You'll hear songs from Edith Piaf, Josephine Baker, Charles Trenet, Sophia Loren, Eartha Kitt and more... Join Catherine and a line-up of star performances from some of the best in Perth. Immerse yourself and reminisce in all that is 'Parisian Chic' and settle in for a delightful night of French classic favourites. Le Club Chic A Paris | The Raffles Hotel | 5-7 & 10-14 Feb | show 7.30pm
Events
Whose Rhyme Is It Anyway?
Uncorked Comedy | Wine tasting with a comedian
Triple Cream Comedy Showcase
The Variety Talent Competition
The Incorrect Stand-Up Comedy Show 2021
The Great Debate: Girlz rule, boys drool - a 90s musical comedy!
Swipe Right! The Musical II
Spectacles Present: Stargazed
She'll Be right: A Tradie Cabaret
Perth's Big Gay Games Night: Live Edition
Nadia Collins: Chrysalis (a work in progress)
Melon the Human attempts to top his last show which got him into the largest circus in the world.
Life Drawing with a Comedian
Learn Magic: Celebrity Magician Jon Fox Reveals His Secrets!
Harry Potter vs Lord of the Rings: Stand up comedy showdown
Fatale Attraction: Final Fantasy
Down the Rabbit Hole by Shana James
Defiant Women - Voices of Protest and Change
Crap Music Rave Party: The High School Ball
CERAH Exchange Showcase: Thinking through Cross-Disciplinary Methodology
Captain Spaceship: Renegades
Cameron the Magician Presents: Abra Da-Cameron!
Brewed Laughter | Beer tasting with a comedian
Bogan Shakespeare Presents: Macbeth
Best of the Fringe: Comedy Superstars
ANTIGONE Sophocles Adaptation by Jane Hille
An Aussie, African & Englishman walk into a bar...
Alissia Marsh: King Of The Lesbians
Location