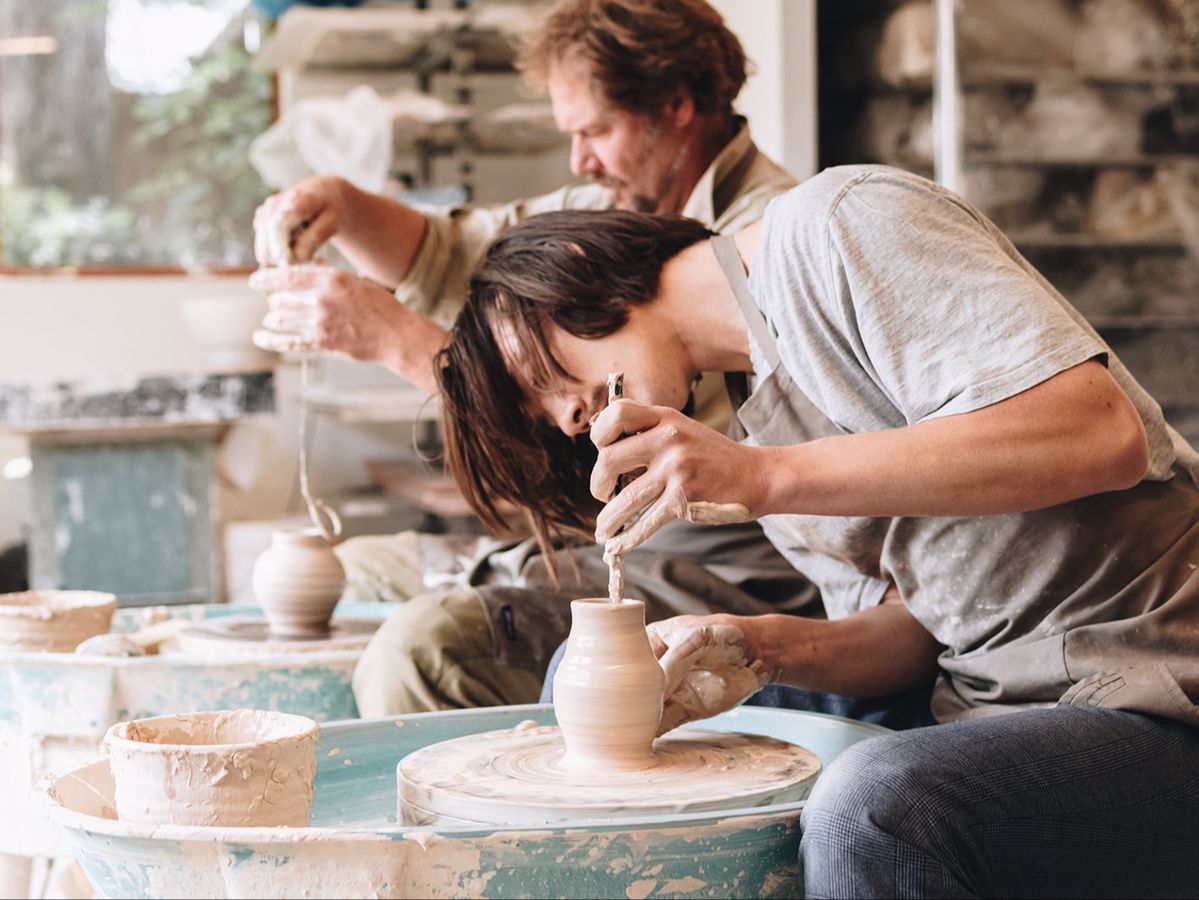 Happs Pottery and Icon Honey offer experiences galore! Bright contemporary handbuilt ceramics, do a studio pottery experience for all ages and free honey tastings of Western Australia's best honeys.
Open Days/times:Daily 10am - 5pm
Represented Artists:Myles Happ, Finn Happ, Harry Wykman, Denise Stone and Maggie Cook
Galleries:Craft,Art Gallery,Artisan Workshop,Ceramics,Pottery,Artist Studio
Details
Wheelchair Access:Limited
Galleries:Craft,Art Gallery,Artisan Workshop,Ceramics,Pottery,Artist Studio
Facilities:Free
Open Days:Monday,Tuesday,Wednesday,Thursday,Friday,Saturday,Sunday,Public Holidays
Description
Happs Pottery has works by Myles Happ and now his son Finn, who has taken the mantle of creating pottery in their studio and gallery on Caves Road, Anniebrook. All pots are made on site so it is possible to see someone working most days in the studio and if you are interested in creating your own 'masterpiece' you can book a pottery lesson/workshop. After you have made your pot, there is opportunity to go the next step and have it glazed and fired. This humble craft is much better appreciated when you have a go! Finn has been working on keep cups, bowls and vases and developing a wider range of glazes which he finds very exciting. He was recently commissioned to make mugs for local restaurant Meelup Farmhouse – we definitely recommend visiting them too! The studio also features local potters Denise and Maggie who make gorgeous unusual pieces – little bowls and vases, hanging ornaments and the occasional yarn bowl. Harry is a resident potter, coming down when he can and bringing his expertise to the mix. You will find functional food presentation platters, useful small bowls and practical dinnerware – all suitable as gifts or self-indulgence. All of the pottery is dishwasher and microwave safe. Take home something that was made with loving hands. Icon Honey is named in recognition of the iconic West Australian honey varietals, the honey we collect from our own bee hives or from our supporting network of beekeepers. Try it and you will see it is incredibly delicious! From the renowned molasses flavoured Jarrah to the familiar favourite Redgum; light and sweet Karri to rich flavoured Blackbutt; very local tangy Peppi (from the Peppermint tree) to the winter Wildflower from the north – sweet and floral, there is something for everyone and your family and friends. Make sure you take a bit of time to have a look at the bee wall while you are visiting. Our locally made bespoke wall reveals the bees as they work in a hive. Maybe you will even get to spot the queen. The honey is available on line-through the Icon Honey website. Children are very welcome to play on the trampoline, shoes off and no sticks. Supervision definitely required for little kids as it is quite high off the ground but big kids including adults use at own risk! There is also a rustic rope swing where you can pretend to be Captain Jack Sparrow swinging off a mast… or Tarzan. Just don't bump into the tree! We have two friendly Jack Russell dogs, Lola and Otis, who will often come and greet you.
Related
Location