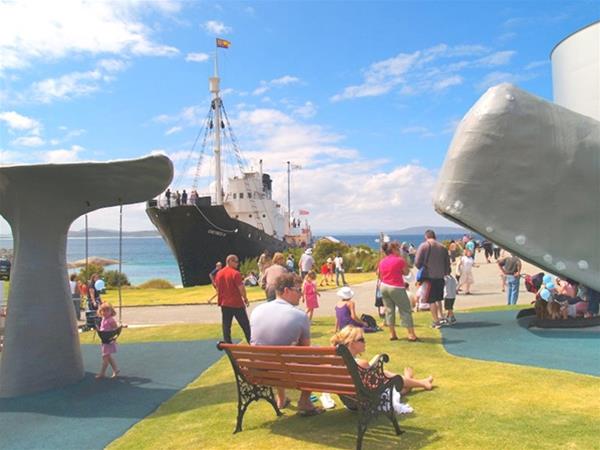 Albany's Historic Whaling Station
Experience the best day out on the amazing South Coast! History comes alive when you join a tour at Albany's Historic Whaling Station. Enjoy our Australian Wildlife Park & Regional Wildflower Garden.
Open Days/times:9AM - 5PM
Details
Facilities:Cafe
Open Days:Monday,Tuesday,Wednesday,Thursday,Friday,Saturday,Sunday,Public Holidays
Description
Visit the only complete whaling station tourism attraction in the world!
Albany's Historic Whaling Station was the last operating station in Australia and provides a fascinating insight into Albany's colourful past. Recognised as a heritage site, the whaling station is an engaging and educational tourism attraction for all ages to enjoy.
Join our knowledgeable tour guides on a complimentary tour through the restored whale processing factory. Find yourself immersed in the sights and sounds of the whaling industry. Enjoy short films within the converted whale oil tanks. Climb aboard the Cheynes IV, the world's only preserved Whalechaser ship; see our giant blue whale skeleton; enjoy our world-renowned marine animal art collection and view our precious scrimshaw art. Visit our museum exhibits filled with authentic, whaling artefacts and memorabilia or relax in our café overlooking one of Albany's most picturesque bays.
Our unique, biodiverse location is also home to over a 100,000 species of native plants which are now displayed in our Regional Wildflower Garden. Families can enjoy free BBQ's in the gardens and learn about our friendly collection of native animals at our Australian Wildlife Park. Join us for a memorable day on The Amazing South Coast.
Location